Your jnAccount:
Login
or
Register
| New to Jellyneo?
Click here!
Grumpy Old King
Grumpy Old King Information
World:

Trophies:

Neopoint Ratio:

1.00 Points =
1 NP

Our Difficulty Rating:

10%

[Send in a Game Tip] - [Return to the Game Guide Index]
Well, I suppose having your neighboring countries belittling both your army and your intelligence would put you in a rather bad mood. Though really, you'd think a king would have better things to do than having a bunch of random people attempt to make him laugh. Oh well, just means more potential Neopoints for you!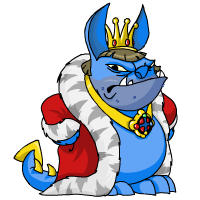 You'd better not disturb me during lunch though.
It seems that King Skarl's sense of humor is rather strange. In fact, it's completely random which reaction he'll have to your attempts of entertainment (the points he awards you also don't seem to fall in any regular pattern). The jokes don't even have to make sense and he can be in hysterics!
Skarl's Reactions
| | |
| --- | --- |
| Reaction | Reward |
| Hysterics | This is most difficult reaction to obtain from the greedy tyrant, but he'll reward you nicely with some only-obtainable-from-Grumpy-Old-King food along with quite a few Neopoints. The items you can receive are shown below this table. You will also receive the Blumaroo Court Jester Avatar if Skarl reacts with hysterics to any joke whose setup is What do you do if *blank* fierce Peophins *blank* has eaten too much *blank* tin of olives?" regardless of the punchline. |
| Chuckle | Here he'll reward you with something from the kitchen, and sometimes he'll add a few hundred NP to your prize. The items you can receive are shown below this table. |
| Thanks for Trying | Well if he didn't reward everyone with something then in no time there would be a mutiny on his hands. You'll get a small amount of Neopoints for this outcome. Occasionally he will 'be feeling nice today' and will randomly award a 10x bonus. (Thanks to sahransoot for this tip.) |
| No Effect | No Reward. Zip, nada, nothing. |
| Worst Joke Ever | Skarl may be angry, but you will be awarded the Moody Avatar. |
Chuckle Prizes

Bag of Peas

Bag Of Sugar

Baked Rye Loaf

Basket of Gross Berries


(wearable)


Blackened Apple

Blackened Gruel

Blackened Honey

Blancmange

Broccoli

Bucket Of Slops

Bullseye Pie

Bunch of Tomatoes

Carrot

Carrot Stuffed Pepper

Chunky Meaty Stew

Corn On The Cob

Courgette Bread

Cranberries

Cup of Water

Designer Blackened Potato

Durbage

Flat Bread

Fried Courgette

Garlic Bread Halves

Gruel

Hot Cakes

Hot Crossed Buns

Ixi Hoof Soup

Meat Kebab

Meat and Beans

Mouldy Potato

Orange Juice

Pea Stuffed Pepper

Pease Porridge

Potato Stuffed Pepper

Raw Potato

Sausage and Pea Soup

Sludge Pie

Smooshed Tomato

Soft White Cheese

Stale Bread

Stone Soup

Symol Dirt Pie

Tasty Turnip Tartar

Thick Creamy Porridge

Turkey Cane

Twisted Bread

Vegetarian Stuffed Courgette

Yeasty Bread

Yellow Courgette
Hysterics Prizes

Bowl of Yuck

Chicken Leg Wing

Exotic Fruits Pie

Golden Stalk

Hot Crossed Buns

King Skarl Candy

King Skarl Erisim

King Skarl Erisim Plushie

King Skarl Quiguki Plushie

King Skarl Royal Flag


(wearable)


King Skarl Snowbunny Plushie

King Skarls Robe


(wearable)


King Skarls Snowbunny

Legacy of the Skarl Royal Crown

Morris Plushie

Royal Cheese Bread

Skarl Collectable Charm

Skarl Fruit

Skarl Kebab

Skarl Royal Crown

Skarl Royal Flag

Skarl Royal Shield

Skarl Royal Shield Balloon

Snargan Plushie

Tail Bone
Breaks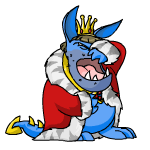 Like his brother King Hagan, the grumpier of the two needs regular breaks. You won't find Skarl on his throne at the hours of 8-9AM NST, 1-2PM NST and 7-8PM NST. Come back later to try your luck!
Avatars
There are also two possible avatars to be won from this game!
Blumaroo Court Jester / Guide
Awarded randomly when you make King Skarl laugh by telling him the following joke: "What do you do if *blank* fierce Peophins *blank* has eaten too much *blank* tin of olives?" (The answer can be anything).
Released: January 27, 2004
Help us improve!
Did you find what you were looking for on this page?
This game guide was written by: DragonBeak