Your jnAccount:
Login
or
Register
| New to Jellyneo?
Click here!
Gormball
Gormball Information
World:

Trophies:

Neopoint Ratio:

1.00 Points =
1 NP

Our Difficulty Rating:

20%

[Send in a Game Tip] - [Return to the Game Guide Index]
In Gormball, your task is to be the last one standing! You and 7 opponents stand in a circle and throw a Gormball counterclockwise to each other. A Gormball is highly unstable - and it's not going to be long until it explodes! If it explodes whilst you're holding it - KABOOM!!! You're out!
Choosing a Character
In my experience, all characters stand an equal chance of winning - however, I always choose Thyassa, as I seem to stay in longer when I play as him.

"I'm #1 in the world - I'm never out first!" *

* May not be strictly true.
The First Round
One character will start the game holding the ball (it may be you!). They begin the game by throwing it around the circle. Click the "next" button until you have the ball in your hands!
Your First Move
After every move it will tell you how long each player held the ball for; try and count how many seconds the Gormball has been active. The longer a ball has been in play, the more unstable it is... so, if it's a new-ish ball, you could take the risk of holding it for 3 or 4 seconds. However, if it's been around for 10+ seconds, get rid of it as fast as you can!
This part of the game is a combination of luck and educated gambling. You get two points for every second you hold the ball; to wait only one second, just refresh the page (thanks to Maddie for that tip).
For every second you hold a Gormball, your score will increase; however, if it explodes on you then it's game over! Try to hold on as long as you can, but your priority should be staying alive to the end!
The First Accident
It shouldn't take very long for the Gormball to take its first victim. And when one falls, the rest are sure to follow! For every player who falls foul of the Gormball, you earn yourself a point, so don't feel too guilty.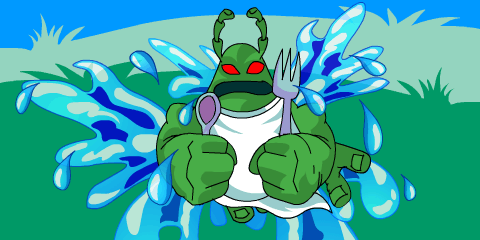 The Final Showdown
When only you and one other player are left, the game is purely luck. Don't worry about increasing your point total anymore - try and make sure the ball doesn't explode on you! That means to get rid of it as fast as you can.
Bonuses
Whilst playing, your point total will be boosted (or drained) by bonuses! Here are the bonus balls you may come across!










If your score is less than 10, you will get bonuses of 1-2 points. If your score is between 10 and 15, you can get bonuses of up to 35 points! If you have 34 points or more, your bonuses depend on how high your point total is.
However, if your score is between 16 and 34, bonuses will take away your points! Always avoid this point group if you can, unless you're in danger of losing the game!
Prizes
If you lose the game, you will receive your point total as a Neopoint sum. However, if you win the game, you will receive four times your point total in NP, as well as an item! The item you receive will be random, but it will be from one of the following categories:
Gormball Avatar
Gormball - Gargarox
Win a game of Gormball.
Help us improve!

Did you find what you were looking for on this page?
This game guide was written by: Patrick