Your jnAccount:
Login
or
Register
| New to Jellyneo?
Click here!
The Fungus Cave
Driven from the jungles of Tyrannia, Krawks made their way to Krawk Island. After many years of thriving as the sole habitants, pirates began to migrate to the island. The Fungus Cave was always there, but the pirates found it largely uninteresting, seeing as the only thing the caves contained was a nasty fungus growing throughout the cave walls.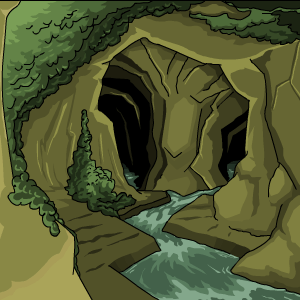 You have entered a dark dank cave with lots of fungus all over. It is cold and you start to shiver. There does not appear to be anything of interest in this cave...
The Cave
If you look closely, the cave can be found in the cove just above the Governor's Mansion, to the right of the Dubloon-O-Matic.

The cave is only hidden if you don't know where to look...
The Magic Fungus
Visiting the Fungus Cave with any of the Krawk petpets (not zapped) attached to your Neopet will reveal the cave's magic. Instead of being greeted with an eerie message, you'll be given the option to feed the cave's fungus to your Krawk. Provided that you have space and your Krawk has a unique name, feeding the fungus to your petpet will transform him or her into a Krawk Neopet.

It sounds so appetizing, can you really say no...?
The Petpets
Each Krawk petpet corresponds with the color of a Krawk Neopet. For example, if you feed fungus to a Plushie Krawk petpet, it will transform into a Plushie Krawk Neopet. All of the Krawk petpets are listed below.
Tips
The Fungus Caves is currently the most expensive way to create a Krawk. The Get A Krawk guide contains more information on cheaper alternatives.
Help us improve!

Did you find what you were looking for on this page?
This article was written by: Kait