Your jnAccount:
Login
or
Register
| New to Jellyneo?
Click here!
The Forgotten Shore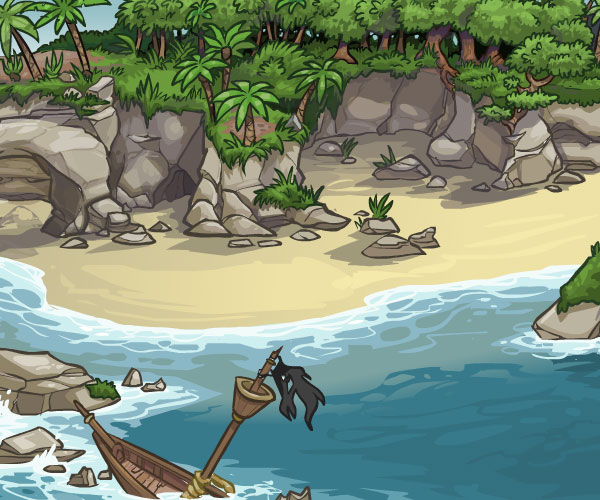 Along the far coast of Krawk Island lies the Forgotten Shore. Treacherous reefs surround the area, and more than one vessel has been lost for daring to approach. Every once in a while, old cargo still washes up onto shore...
Getting to the Shore
The Shore can be unlocked if you obtain all nine pieces of the Forgotten Shore Map. You can win pieces through the Anchor Management daily, or you can purchase them from other users on the Trading Post, Auction House, and Shop Wizard. Upon completing the map, you will be awarded up to 20,000 NP and granted access to the Forgotten Shore.
You can find information on the pieces, including their prices, in our Item Database. Once you have all nine pieces in your inventory, go to the treasure map redemption area. You only need to redeem the map once.
Daily Activity
From now on, you will be able to access the Shore through this link. A secret area on the Krawk Island map will also lead you there.
You will be presented with a large image of the shoreline. When one of the objects shown below has washed ashore, clicking anywhere on the image will grant you a prize. You are not guaranteed to be able to click and find a prize every day you visit. You can only collect one prize per day; the shore "resets" at midnight NST, like many of the other dailies.
Objects on the Shore
| | | |
| --- | --- | --- |
| Discovered Treasure Chest | Ancient Peophin Maractite Coin, Round Maractite Coin | Earrings of the Deep, Necklace of the Deep |
| Neopoints | Avatar, Forgotten Shore Background, Pirate Draik Egg, Pirate Krawk Morphing Potion | |
Prizes
The items below can be won from the Forgotten Shore. In addition, you can win 2,000 NP, 5,000 NP, and 10,000 NP.
Forgotten Shore Prizes

Adopt A Grundo Coin

Amulet of Darkness

Amulet of Fire

Amulet of Reflection

Ancient Peophin Maractite Coin

Bangles of the Deep

Circlet of the Deep

Claw Necklace

Cosmic Cheese Stars Coin

Discovered Treasure Chest

Dual Tone Maractite Coin

Earrings of the Deep

Enchanted Maraquan Necklace

Fifty Dubloon Coin

Five Dubloon Coin

Flower Circlet

Flower Necklace

Forgotten Shore Background


(wearable)


Forgotten Shore Map Piece

Golden Laurel Circlet

Gormball Coin

Gormball Necklace


(wearable)


Grobleen Salad Coin

Grundo Veggieballs Coin

Grundo Warehouse Coin

H4000 Helmet Coin

Hairpin of the Deep

Half Maractite Coin

Inflatable Bouncy Pirate Ship

Lava Stone Necklace

Magical Pirate Krawk Plushie

Maraquan Kau Maractite Coin

MegaTon Bracelet

Necklace of the Deep

One Dubloon Coin

Pawkeet Pinata

Pirate Aisha Morphing Potion

Pirate Aisha Plushie

Pirate Draik Egg

Pirate Draik Morphing Potion

Pirate Eyrie Morphing Potion

Pirate Krawk Morphing Potion

Pirate Ogrin Plushie

Pirate Techo Morphing Potion

Pirate Tonu Plushie

Pygui Nesting Dolls

Rocky Ocean Background


(wearable)


Round Maractite Coin

Seaweed Design Maractite Coin

Squared Maractite Coin

Tiara of the Deep

Toy Pirate Sword

Tuskaninny Treasure

Twenty Dubloon Coin

Two Dubloon Coin
Help us improve!

Did you find what you were looking for on this page?
This article was written by: JN Staff