Your jnAccount:
Login
or
Register
| New to Jellyneo?
Click here!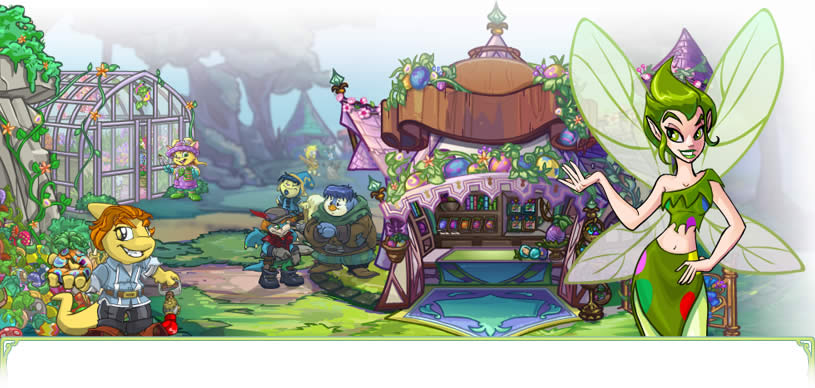 2013 Festival of Neggs
Kari is back for another year of hunting for Neggs! She has been joined by Honest Pete, a Shoyru overseeing the festival-based Neocash portion of the event, while Flora, a green-fingered Acara, is tending to the Bloomin' Neggs activity. Images from this year's hunt can be found here!
The Festival started on March 25th and will end on April 14th, with Day 1 running until March 26th.
Please see the official FAQ for more details.
To participate in the hunt, visit the Festival of Neggs page.
Patterned Neggs
Each day, a new patterned Negg will be available to find. You can find the Neggs that have been released in any order and on any day; however, if you keep up and collect Neggs on the day they're released, you'll get a bonus prize. After collecting all four patterned Neggs in a particular category, prizes will be unlocked and you will be able to select one.
Each Negg is located in a particular land in Neopia. In the tables below we list the land, followed by the all of the potential hiding places within that land. When you visit your correct location, a pop-up will appear at the top of the page notifying you that you have found a Negg.
For collecting all four Plaid Neggs, you can choose one of the following items after returning to Kari:
For collecting all four Swirly Neggs, you can choose one of the following items after returning to Kari:
Polka-Dot Neggs

For collecting all four Polka-Dot Neggs, you can choose one of the following items after returning to Kari:
Striped Neggs

For collecting all four Striped Neggs, you can choose one of the following items after returning to Kari:
Zig-Zag Neggs

For collecting all four Zig-Zag Neggs, you can choose one of the following items after returning to Kari:
Final Prizes
For collecting all 20 patterned Neggs on their release day, you will receive the following items.
Finding each patterned Negg on its day of release also unlocks the Festival of Neggs site theme for users who don't already have it.
For finding all 20 neggs by the end of the event (not on release day), you are awarded the following items:
If you found at least one negg by the end of the event, but didn't actually finish, you are awarded:
Participants only receive the site theme for completing the event on the day of release.
Plain Plastic Neggs
Continuing from last year, you can earn a bonus prize each day by finding ten plain plastic Neggs hidden around the site. They are hidden in the same places for everyone. These locations change with each set of Neggs, and are listed below. Unlike with the patterned Neggs, once a particular day passes you can no longer collect the Neggs from previous days. They will disappear from the site once the countdown timer for the day reaches 0.
Once have you found all ten plastic Neggs, return to Kari and she will reward you with one of the following prizes. You will receive a random prize each time.
Plain Plastic Negg Prizes

101 Negg Recipes

A Dozen Neggs

Babaa Tales

Baby Cybunny Chocolate Egg

Bag of Infinite Neggs

Blue Easter Negg Cookie

Candy Filled Negg

Chocolate Candy Filled Negg

Chocolate Coated Marshmallow

Chocolate Pteri Eggs

Colourful Negg Pizza

Creme Filled Chocolate Negg

Dark Chocolate Cybunny

Faerie Marshmallows

Floral Birdhouse

Floral Comb

Floral Easter Negg

Grilled Negg

Lavender-Scented Toothpaste

Marshmallow Milkshake

Matching Pastel Shells

Negg Compact Mirror

Negg Crayons

Negg Pie

Negg Scroll

Negg Slushie

Neggdrop Soup

Neggery Notes

Paper Negg

Pastel Snowflake Tree

Plain Snowbunny Loaf

Quiguki Negg Hunt Set

Reject Usuki Spring Basket

Rose Scented Soap

Spring Beauty

Stackable Babaas

Stale Black Jelly Beans

The Negg Faerie Diaries

Tonu Orange Juice

Yamless Candied Yams

Zafara Orange Juice
Honest Pete's (Negg Punching)
The final type of Negg that you can collect is a decorative Negg. These Neggs can be found in the same Neopian land as that day's patterned Negg by searching the map in the same way. And, just like the patterned Neggs, you can collect the decorative Neggs at any time and in any order. So, what do you do with these Neggs?
Well, Honest Pete has had the novel idea of turning Neggs into Doughnutfruit by punching a hole in the middle! Simply purchase a Negg Puncher from the NC Mall for 125 NC (per visit), then visit him with your freshly-collected decorative negg in hand!
Note: Each Negg Puncher only works once, and you will not be able to keep the decorative Negg after handing it over to Pete.
The decorative neggs are classified as no-trade (meaning they are tied to your account and cannot be sent to other users) and only serve the purpose of being punched in Honest Pete's activity. Likewise, the doughnutfruit plushies are also no-trade, so you're essentially trading in the decorative negg for the plushie and a NC item. As this segment of the Festival is NC-based, you are able to undertake Negg punching on side accounts. However, please be wary of completing other aspects of the hunt, as these will ultimately reward Neopoints/items.

Make a choice before using me:
decorative Negg or Neocash prizes!
Decorative Neggs & Punchy Prizes

Help us improve!

Did you find what you were looking for on this page?
This article was written by: JN Staff