Your jnAccount:
Login
or
Register
| New to Jellyneo?
Click here!
Esophagor's Quests
Theeeee Esophhhhhhagoooooor issss huuuunnnngryyyyy! This slimy guy is one hungry dude. He's always demanding food from passerbys, but he's always kind enough to reward you if you bring him what you're craving!


Click here if you dare helping me...
The Esophagor will only ask for Spooky Foods, foods that are sold in the Spooky Food Shop. Most of these are extremely cheap (10-100NP); a large amount, however, are also expensive items. The Esophagor can give nice prizes out for those 10np quests, but never do the ones with expensive items! If the quest costs you more than 1,000 NP, you're almost always going to lose neopoints. As you can complete up to ten Esophagor quests in a given day, it just may be worth is to take a chance and give his quests a try.





The Esophagor also serves another purpose other than giving you item rewards. If you visit the Brain Tree to complete his quest, and then complete a quest for the Esophagor, then he will give you an answer for the Brain Tree. This is the only way to get the answers for the Brain Tree quests, so don't be fooled by someone claiming to be able to give you the answers!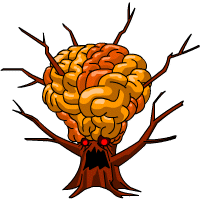 You must fetch me information, and only the Esophagor can provide it!
If you've gotten a bad quest from the Esophagor, then you can get some revenge on him in the Battledome! Completing any of his quests will give you the privilege of battling him in the Battledome. Just beware of the slime he flings!
Complete all three Haunted Woods quests for the Brain Tree, Esophagor, and Edna for a bonus prize!




Help us improve!

Did you find what you were looking for on this page?
This article was written by: Dave