Your jnAccount:
Login
or
Register
| New to Jellyneo?
Click here!
The Witch's Tower
Inside the Witch's Tower lives Edna, the residential sorceress of the Haunted Woods. However, as the five Meercas she accidentally turned into Meerca Pie can tell you, she's not very good at casting magic. But that's why you're here right? To help Edna collect the correct ingredients for her latest spells!
Note: You cannot start one of Edna's quests if you have 60 or more items in your inventory.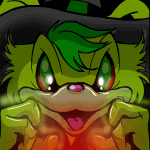 You wouldn't be cruel to an old woman would you? *snicker*
Edna's Quest
Unlike the random event quests given out by faeries, you can decide when you want to do one of Edna's quests. You may complete up to 10 quests a day (including Kitchen and Taelia Quests). You are also allowed to use the Shop Wizard, but there is a two hour time limit and she'll usually ask for more than one item.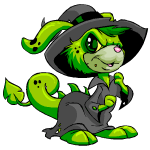 Course you mustn't disturb me during the witching hours. I have... things that I must attend to.
Another thing that makes Edna's quests different from the faeries' is that she uses many random items in her potions, ranging from medicine to clothing. It's common for her to request very expensive ingredients, yet she only rewards her questers with spooky food and a couple of hundred Neopoints.
When you complete your first quest for her, she'll grace you with her presence in the Battledome, though she'll only be up for a fight during the witching hours of 12 - 1 AM NST. Whilst she is in the Battledome you won't be able to complete a quest for her. She also takes a power nap from 12 - 1 PM NST, so you can't visit her tower for a quest then either. If you've accepted a quest from her that will end during this time period, you should complete it before then, as she will hold you responsible for not getting the items to her.




Guess having mad potion skills leaves little room for cooking...
The Avatar
And of course there is also the infamous Edna avatar! Although before rumored to be a randomly awarded avatar one of TNT's programmers claimed it wasn't.
Avatar Solution
Edna - Cackle!
Prize for completing Edna's Quests. (Warning: This may take a lot of quests. Some people have reported to have completed over 150, and no avatar.)
Complete all three Haunted Woods quests for the Brain Tree, Esophagor, and Edna for a bonus prize!




Help us improve!

Did you find what you were looking for on this page?
This article was written by: DragonBeak