Your jnAccount:
Login
or
Register
| New to Jellyneo?
Click here!
Neopian Times Editorial Database
The Neopian Times Editorial is a (usually) weekly column hosted by The Neopets Team that answers questions direct from Neopians. Unfortunately, these Q&A's are not easily searched on the Neopets site, so we've created our own searchable database. Convenient for looking up past answers!
To search, just type something in the box below! (The fewer words, the better... usually.)
There are 11,341 results for you search.
---
Why bother with an Editorial when you're not going to answer questions? This one (861 dated March 29th) is pathetic. Either answer serious questions seriously or retire it. And whatever happened to the HTT boards? You don't want our opinions any longer? Lastly, you might consider actually releasing the Pretty Net Dress. e/r
Editorial #861 was written in the spirit of the April Fool's edition of the Neopian Times. We have answered the same questions this week with real answers. As for hardtotame, she says she took a break from interacting with the players when she felt she was unable to answer much of the questions people were asking her, and when the suggestions and requests started piling up without sufficient time to address them. You may have noticed that several things that were brought up during these sessions have gradually been addressed since. Others that you aren't seeing are being worked on behind the scenes. Apparently, she was planning to restart the sessions once a good number of issues were resolved, but if players just want to interact with the staff either way, she'll be back on the boards next week! As for the net dress it was released it's just a rare item from the clothing shop, best of luck :)
From Neopian Times, Issue 862. JN Editorial ID: 20118
---
Welcome back to the editorial, come in take off your coat, sit back and relax! Hope you guys enjoyed our comedic responses to last issue's april fools questions. Did you get our jist or did we fool ya? ;) Either way we are back with your regularly scheduled programming...
From Neopian Times, Issue 862. JN Editorial ID: 20238
---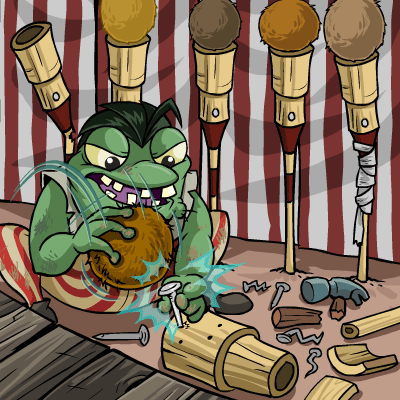 Donny's Corner be like..
From Neopian Times, Issue 861. JN Editorial ID: 20241
---
Hi TNT. *hands out baby carrots and hummus, because you guys get enough cookies as is* Neopets don't usually have hair, unless they put on wigs. Does that mean historical Neopian figures with hair (e.g. Isca, Nabile, etc.) are also wearing wigs? If yes, what about the Faeries? Are they secretly... *gasp* BALD? What's Queen Fyora hiding under her crown? Please, TNT, I need to know.~~dragons_den
I guess I have been eating a lot of sweets lately...I didn't think anyone could tell the difference. (wig is suddenly snatched from head)
From Neopian Times, Issue 861. JN Editorial ID: 20117
---
I would love to see some NC & NP wearable items using Orchids. We have a lot of other items with flowers but, not many if any with orchids. I think you could come up with a lot of beautiful items using them. Foregrounds, Garlands, BGs and maybe even a wig with an lavender orchid accent/clip. Just thinking about it I am getting excited. Also.. If you guys when making a crown of some sort, if you can make it static so it can go ontop of a wig of choice. And not make our babies bald. Thank you guys for all you do. I'm not sure how often you are told. But you guys are amazing & appreciated..~~sugrrnspiice
It's okay, we never tire of hearing it. You're welcome!
From Neopian Times, Issue 861. JN Editorial ID: 20116
---
Hey TNT! I returned recently and i was wondering, Do you guys have anything lore content/lore related event planned in the future, you don't have to tell us what it's about. But i would really appreciate the answer! Thank you!~~brandonsky500
You're welcome!
From Neopian Times, Issue 861. JN Editorial ID: 20115
---
Hey there guys! I just have a quick question...why are some plushies categorised as toys and others as plushies? For example the Scourgies Covered Ixi Plushie says it's called a plushie, but is labelled a toy. Thank you for all your hard work as always :)~~cassiethepirate
You are so sweet! You are welcome as always J
From Neopian Times, Issue 861. JN Editorial ID: 20114
---
*shows up with a plate of brownies* Hi Jade! I was wondering if you could ask Donny to look into fixing AAA's Revenge. The avie has been broken for a super long time. If Donny would just give it a mean glare, I am sure it would stop acting up!!~~innipooh
Brownies! After that pizza and coffee, I was sitting here wondering whether anyone would show up with brownies this week, and voila! There you go! Delicious! Just delicious! Delicious.
From Neopian Times, Issue 861. JN Editorial ID: 20113
---
Hey Jade! *throws pizza on roof* Lately there have been a lot of rumors going around about an upcoming Charity Corner event. Can we get a couple hints about which perks we might see or when the event might happen? We're all eager to find out whatever information we can. Thanks!~~1337_masta
Hey you! *jumps dramatically into the air in slow-motion and snatches pizza just before it lands* Pizza!! Yummmmmmm!
From Neopian Times, Issue 861. JN Editorial ID: 20112
---
Special serious announcement from Scrappidoodledandy!

Hey Neopians!

Scrappy here to give you a little update on what's going on here in Neopia. There's a lot of rumors and speculations going around, so I want to be very upfront with you guys on what our plans are at the moment for moving our lovely home to mobile.

As we are all aware, all this flash has got to go. Largest part of that being the customization that allows us to make our Neopets look all spiffy. We're currently working on moving all the art over and are hoping to get a beta version out to you guys early this summer. Once that is up and running you will be able to customize your lovely pets on any browser at any time!

Another topic of discussion here is all our games. The plan right now is to move these over in batches, starting with about 10 games and moving more from there. We want to be able to bring over all of them with time but starting small will be quicker and let us take your guys feedback moving forward!

Of course, there has been other parts moving as I'm sure you all have noticed, such as the maps and other events using flash. We are hoping to get all these converted as soon as we can, focusing around the maps first and foremost then moving onto the other pieces from there.

I am also aware there has been many mentions of an app and while that is not out of the picture, we have decided to focus on moving away from flash and make that our top priority first. Along with moving away from flash, we are making a mobile friendly browser version to improve user experience when on a mobile device. This is another area we will want to release test versions as soon as we can and get all your feedback to improve moving forward.

Those are most of the updates for right now! I wanted to be very upfront with you guys here because since this is all to improve your experience, we want to make sure we can get your feedback and let that guide us each step of the way! I will be setting up a time soon to jump on the boards, so we can have a more open discussion about this as well but wanted to start with an update here!

As always, stay cool Neopians!

-Scrappy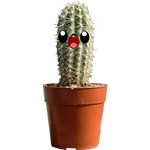 And now a word from the editorial:
From Neopian Times, Issue 861. JN Editorial ID: 20240
---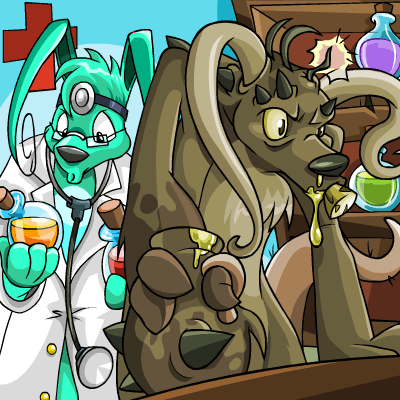 Donny's Corner: Fixed the archives glitch from NT.
From Neopian Times, Issue 860. JN Editorial ID: 20224
---
Hi, Jade. I appreciate the efforts the team has been making to hear us and fix things. We all get impatient for fixes but the progress is noticed and very encouraging. // I know it would be very tricky or near impossible to allow us to change our pet's names, but would it be possible for us to change which letters are capped/uncapped? URLs don't seem to be case sensitive so I'm hopeful this could be done, as I know it would make people happy to be able to make that slight adjustment on their pets. Thank you!
Unfortunately, changing the capitalization in pet names is nearly as complicated as changing the entire name.
From Neopian Times, Issue 860. JN Editorial ID: 20111
---
Hi! A poll was held from March 4 til March 18, 2019 on the NCC regarding the users's wishes for the next batch of Dyeworks (Spring 2019 edition). During this time, 130 users have come together and expressed their wishes (3 items max. per user) and opinions. 158 items were suggested, 105 items once only. Please find hereunder the final tally (only including items that have received 5/+ votes). 20/+ votes: Fancy Floral Tea Wig : 24 Long Charming Grey Wig : 24 Dark Lace Dress : 22 Flowering Vine String Lights : 20 10/+ votes Lace Curtain Garland : 18 Armin Collectors Contacts : 12 Scattered Light Shower : 12 5/+ votes Rainbow Petal Shower : 9 Ornamental Lake with Goldies : 7 Dusty Pink Lamps : 6 Fancy Sparkles Shower : 6 Glow of Goodness : 5 Radiant Sunflower Arbour : 5 All the data is available on : http://www.neopets.com/~Geme I hope this will be useful. Thank you for your time and have a nice day! :-)
Thank you! We've been watching the results, and we have the next batch of Dyeworks items planned accordingly.
From Neopian Times, Issue 860. JN Editorial ID: 20110
---
Why had the Faerie Dust retired from the NC mall? The other crafting items are in the mall and aren't crafting quests still awarded randomly all year long where you would need that material?
The Faerie Dust is back in the NC Mall and yes, crafting quests appear randomly all year long.
From Neopian Times, Issue 860. JN Editorial ID: 20109
---
Hi TNT! Is there any chance that the content department can add an eventide or a white Naleap to the Petpet Puddle in the near future?
I just sent a paper plane over to the person in charge of this, loaded with freshly baked cookies you didn't give us. So hopefully, it will be done.
From Neopian Times, Issue 860. JN Editorial ID: 20108
---
Hi tnt! Back on March 9th y'all posted in the news that the Darigan Mallard Being released into the pool but I have yet to see it. Any idea when that might be activated? One of my pets has had a mallard for quite some time, haven't had the heart to remove the Mallard cause of how old she is but when I saw the darigan mallard I was super excited and could finally change the Mallard to a color I liked. Thank you in advance for reading this!
You can come back to the Petpet Puddle on Wednesday to finally paint your Mallard Darigan.
From Neopian Times, Issue 860. JN Editorial ID: 20107
---
Hi! So for some weeks now, the Mystery Picture competition has been judged on Wednesday nights (around 9pm NST) instead of Thursday afternoons. However, the contest page itself has each time still said the contest would be open until Thursday. If this new judging schedule is expected to be a permanent change, do you think it would be possible to update the competition page to make it clear that submissions will only be open until Wednesday? Thanks!
Oh dear, thanks for pointing this out! Several of the weekly competitions are now being judged in our Bangalore office, as is this one. I guess noone realized it was supposed to be judged on Thursday NST. We're going to go back to judging Mystery Picture on Thursdays, only it will be done (very early) in the morning on Thursday NST here on.
From Neopian Times, Issue 860. JN Editorial ID: 20106
---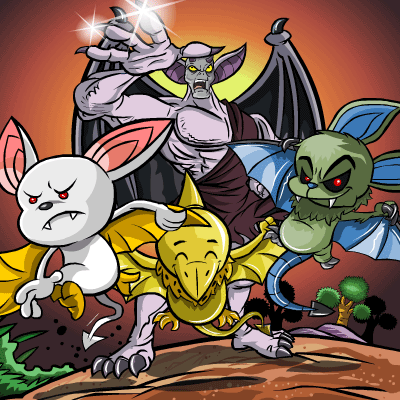 Donny's Corner:
This week Donny has fixed the clover covered castle bg, golden wig restrictions, mano root elixir and of course Trudy's Surprise.
From Neopian Times, Issue 859. JN Editorial ID: 20243
---
Happy Thoughts Section:
I'm not sure if you guys still do this section, but! With Legends & Letters dropping, I've gotten back into Neopets and I just wanted to tell you guys how much I missed it without realizing it! I've reconnected with my best NF and have gone through re customizing some of my pets to freshen everything up, added to my gallery... It's been such a great time. :) Thank you to everyone who keeps this community going, as always. I always look forward to seeing what you guys are coming up with, & the pets in the paint brush poll all looked great! Checking new features is now part of my morning routine. To many more years of neopets! -no tags here-3~~mindy_rocks_socks
From Neopian Times, Issue 859. JN Editorial ID: 20105
---
who are you? do you ALWAYS do the Time's or is it a co-op? at the end of this week's Editorial can we have a Pic of Lord Darigan, finding last years negg? purity please :D~~moonlightwitch
Wow sucha strange series of questions. Well I am Jade, yes I always do the times, Scrappy used to do it but she deals with the big secret projects now, hardtotame helps me with editorial questions when she can, sure Lord Darigan it is, I have no insight on last year's Negg sorry and yeah hope that answered all your questions.
From Neopian Times, Issue 859. JN Editorial ID: 20104
---
A fix for Donny -- Captain Scarblade Collectors Ensemble when worn turns your lupe's paws and neck orange. Ironic as Scarblade himself isn't even an orange lupe. Please fix? Thanks!
Wow what a weird thing...I've reported this to the artist and requested a fix so this should be in sometime next week! Thanks :)
From Neopian Times, Issue 859. JN Editorial ID: 20103
---
Are you going to add more pets for the Oil Paint paintbrush besides the Gelert?~~qwhx12
Why of course silly! In fact there is a new one releasing today in celebration of Scorchio Day check it out!
From Neopian Times, Issue 859. JN Editorial ID: 20102
---
Hello!! Muffin basket, anyone? So while you're all quiet and munching away, please consider having a quick search around for the Tooth Faerie. She's been missing since 2014 or so, and no one has received an avatar (or anything else) from her since then!! No random appearances have happened. The editorial previously said that she had been moved to the new system with the rest of the avatar-related random events, but I think that may have been in error, as no one has seen her in 5 years or so.~~cottontailcat
Incidentally, one of us recently found her. Now it's just a matter of coaxing her to return and hand out those fabulous avatars once more. We hope to report success soon.
From Neopian Times, Issue 859. JN Editorial ID: 20101
---
Is the Mano Root Elixir really activated? I didn't see once in Kayla's Potion Shop..~~_gizmo_stern_
It is now!
From Neopian Times, Issue 859. JN Editorial ID: 20100
---
Hey TNT! Could you clarify something for us? Does the Space Faerie only offer quests to premium users? A number of us were discussing this on the neoboards, since Space Faerie quests seem to be even more rare than FFQs, and the few people who said they got a visit from the Space Faerie were all premium users.~~leo_flores
Good to see our players are as observant as ever. The Space Faerie is pretty pally with the Premium users and prefers to visit them whenever she is in need of an item.
From Neopian Times, Issue 859. JN Editorial ID: 20099
---
Hi there TNT! *hands out cookies* Xeprus are one of my favorite petpet species, but even after all those years it can only be painted one color: purple. Don't get me wrong, I think purple Xeprus look quite cute, but I would like to request some new colors if possible, or even xepru items! I feel like they deserve to get more love.~~zelarion
More Xepru colours. Gotcha.
From Neopian Times, Issue 859. JN Editorial ID: 20098
---
Hey TNT! I've been on the site for a long time now, and I always love to see the new colors released for pet days. However, I have been a bit sad the past few years on Hissi Day when no wraith color is released. I am sending in a request (hopefully early enough!) for a Wraith Hissi this year. I hope you'll agree that they would look pretty menacing & awesome in that color! Crossing my fingers and hoping that this year will be the year! THANK YOU for all that you do!~~uhhhhheather
How curious! Last week, we had several people write in asking for Stealthy Hissis, and now we have several people write in asking for Wraith Hissis. Well, I can just put in a word with the good folks over at the art department, but I can't promise a thing.
From Neopian Times, Issue 859. JN Editorial ID: 20097
---
First of all, I absolutely love legends and letters. I've blazed through all of the currently available levels and am loving powering up team members and discovering new heroes. My favorite part so far has got to be when Caylis [spoiler redacted]. I do have a question about the uh, available dictionary though. Is there any way we can find a list of blocked words without just trying everything? I was really surprised the word "kid" was blocked but some other frankly unsavory words weren't.~~koshi24
So glad you like it!!!! So yes we have seen some of these odd words appear on the blacklist and we are working on removing those! It would be a little odd and unsavory to release the blacklisted words but we will continue to work on these to make sure nothing else gets swept to a list it shouldn't be in. If you find anymore please let us know.
From Neopian Times, Issue 859. JN Editorial ID: 20096
---
Hello! It seems that the Sloth Action Figure announced in the news for this past Sloth Day was not activated yet. Could you release it to Neopia? :)~~dave5104
Thanks Dave, it was set as a r101 so we will adjust is so you will be able to see it!
From Neopian Times, Issue 859. JN Editorial ID: 20095
---
Happy Illusen Issue <3
From Neopian Times, Issue 859. JN Editorial ID: 20242
---