Your jnAccount:
Login
or
Register
| New to Jellyneo?
Click here!
Neopian Times Editorial Database
The Neopian Times Editorial is a (usually) weekly column hosted by The Neopets Team that answers questions direct from Neopians. Unfortunately, these Q&A's are not easily searched on the Neopets site, so we've created our own searchable database. Convenient for looking up past answers!
To search, just type something in the box below! (The fewer words, the better... usually.)
There are 11,529 results for you search.
---
Hey TNT! I believe many people loved this new capsule for the 20th Birthday event, so I'd like to ask one thing: could you guys release it as an actual item? I feel like many people would love to get one of those for themselves and get a special something from it or even if it's just a regular toy to play with their pets, for their galleries or just to keep it as a memory of this event. :D~~ro_posh
Another fantastic idea! If you collect all 20 capsules you should receive the capsule now :D Along with another special surprise!
From Neopian Times, Issue 883. JN Editorial ID: 20358
---
You released Symol Hole on October 25th, but it's nowhere to be found.. Also the Glowing apple lantern still doesn't have ID.. Can you please fix these items so we can find them in Neopia? Thanks...~~gemini_a88
Another strange one...i've informed Donny and he said it should all be taken care of now!
From Neopian Times, Issue 883. JN Editorial ID: 20357
---
Hi there TNT! I was so pleased that you kept your promise to release the 20th Anniversary avatar as part of the birthday celebrations! I was wondering though, since it's been made available to everyone, would you consider making it count in our collections? It made sense not to have it count when it was a SDCC prize, but that's no longer the case.~~bouncyhanyou
Wow what a good point...because you said that sure we've gone ahead and added it to your count. Thanks Binary_Supagoo! He's basically TNT's own superhero!
From Neopian Times, Issue 883. JN Editorial ID: 20356
---
Hello! *tosses a bowl of glowing jelly* I'm returning after a two-ish year hiatus and had a couple of questions. 1) Do we still throw things at the editor? I feel like it's rude, but I'll keep doing it if it's still a thing! 2) Does Jelly World exist yet? I'm so excited to continue exploring the wonderful world of Neopia! Keep up the great work!~~guildlyite
Hi there! Welcome back :) Yes ppl still throw things at me/to me whatever tickles your fancy honestly ¯_(ツ)_/¯..As for the rest of that question...I cannot comment. But yes please keep exploring and enjoying this wonderful world!
From Neopian Times, Issue 883. JN Editorial ID: 20355
---
Hi! The item NC Mall Background Shopkeeper Plushie was announced on June 19th but it can't stock since its Estimated Value is at 0 NP. I was wondering if this could be fixed?~~lucky3005pig
How odd..Donny has gone ahead and fixed that right up!
From Neopian Times, Issue 883. JN Editorial ID: 20354
---
Hi TNT!! This is a small request, but could we please get the petpet Sunutek in the Christmas colour? It's such a cute little petpet! And despite being decades old, it has absolutely no paintable colours! I think the Sunutek would feel really cheerful to get appreciation, and to be painted Christmas!! I hope this is early enough to ask for such a request!! if this gets published, Hi Santa!!! ~~gaisaur
A Christmas Sunutek! I know just the time of year to release that!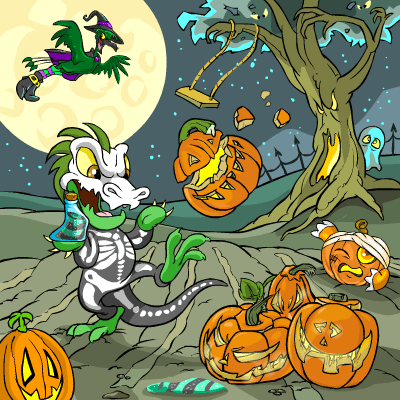 From Neopian Times, Issue 882. JN Editorial ID: 20351
---
Hiya TNT! I had an idea for the lab ray that's probably highly impractical but thought I'd ask anyway. What if there was a chance the ray malfunctions and sends your pet back in time? In other words - the art gets changed to the old artwork (maybe with a nice purple/yellow circle to match).~~windish1234
I must say this is the most creative request to bring back UC pets that I've ever heard! Unfortunately, that doesn't change the answer.
From Neopian Times, Issue 882. JN Editorial ID: 20350
---
Hi TNT! Can you please add Burlap to the list of colours under the drop down list for "All Neopet Colours" at the Rainbow Pool? I don't know if any others are missing, but that one definitely is, and I want to see which pets are available in that colour. Thanks!~~neo492492
You're just in time! I've placed an order for one Burlap Usul.
From Neopian Times, Issue 882. JN Editorial ID: 20349
---
Hi! So I entered my side account gallery a few months ago & won spotlight #830. I stated in my entry description that I wanted my main account (this account) credited with the trophy. That didn't happen. I've sent in many tickets & they said they'd mail someone on the team & have this fixed. The request was passed on more than once with nothing done. Now I'm being told it's not something you usually do. I made a board & other users have stated that their main accounts are credited when they ask. I'm getting nowhere with the ticket system. I'd like a clear answer on the teams stance on the matter. Are you no longer crediting main accounts when side accounts win the gallery spotlight? Thank you.~~ krasavitsa_
Our apologies on this oversight, you should see your trophy on the correct account now.
From Neopian Times, Issue 882. JN Editorial ID: 20348
---
I am writing you all because I have a plea. I would love more than anything in Neopia to have more colors for Neddlers. They are my favorite petpet and it's kind of a bummer it's so limited. Red, blue, green, christmas... How about a Valentine Neddler, or a Chocolate Neddler, or a Faerie Neddler. The possibilities are endless! I want to humbly say, pretty please give us more colors of these adorable little creatures.~~peachespoolay
More colours for Neddlers. Gotcha.
From Neopian Times, Issue 882. JN Editorial ID: 20347
---
Hi! I adore the colors of the dyeworks extra plaid scarves and I was so excited to use them on my cybunny until I saw that it's fully hidden behind the ruff! The original version restricts ruff - is there a possibility of tweaking the dyework versions' restrictions to do this too? Thank you!~~happychild01
Ohh you're totally right, Donny did some switches and snips so it should be all good now!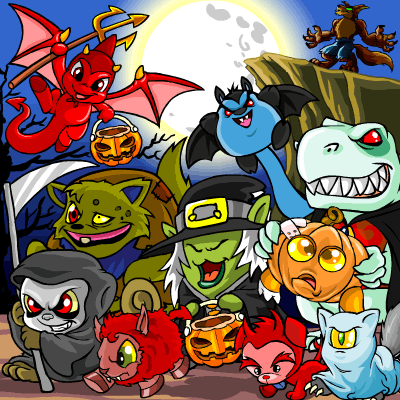 From Neopian Times, Issue 881. JN Editorial ID: 20346
---
I think we need more silly food based costumes like the Hot Dog Mascot with Mustard, Commemorative Birthday Cupcake Costume, and Corn on the Cob Costume. Maybe a burrito or taco or banana costume please? :'D~~winner19955
I totally agree I love the food themed ones I got to come up with the corn on the cob one which was really fun. Sadly the spooky season is almost over therefore everything we have planned has already been in the works for a while, but I will definitely keep in mind for next year!
From Neopian Times, Issue 881. JN Editorial ID: 20345
---
Am I early enough to request Burlap Usul for Usul day? ~~silly_mistake
You're just in time! I've placed an order for one Burlap Usul.
From Neopian Times, Issue 881. JN Editorial ID: 20344
---
Heya, TNT! Is there any chance that in the future we could see some Legends and Letters Avatars? I'm really enjoying the game and I wouldn't mind showing off an avatar of sorts based off it.~~yoshisislandbandit
Why yes, you can expect to see one in the near future. Happy playing!
From Neopian Times, Issue 881. JN Editorial ID: 20343
---
I've seen rumours of a new Letters and Legends stamp being released soon. Would it be possible to put it in the Ghouls Catchers stamp album, and rename the album to something more fitting, like Apps? Otherwise that album will likely never be finished, and the new stamp would either have to be put in Other IV or have a new album created just for it.~~shadiochaos
This is a great idea. Done!
From Neopian Times, Issue 881. JN Editorial ID: 20342
---
Can you please change the rarity of the Burgundy Lipstick please? I dont know why it got changed but all lipstick r80 so why is this one any different?~~_sissiy_sis_369
oh how odd, sure I will have Donny make this change.
From Neopian Times, Issue 881. JN Editorial ID: 20341
---
Hi there! I was wondering if we could get some more flavor text for our pets- They're such a huge part of the site, and with how long we've had them for there's only a small rotation of the different comments your active pet can make as you browse the site. A little extra variety would go a long way, and would just be a fun little addition. Thanks heaps, and happy halloween!!~~leitra
This is something we'd already discussed before, and it's slated to go out with the site redesign! HAPPY HALLOWEEN TO YOU TOO!
From Neopian Times, Issue 881. JN Editorial ID: 20340
---
Hello!!! Due to it being a bit of a grey area, I wanted to clarify if it is okay to seek pets for trade that have specific Petpet Lab exclusive petpets attached? They're zapped & so they cannot be removed to sell for a profit. There's also no guarantee that you can ever zap a specific petpet yourself, since there are thousands of possibilities when you zap your petpet so the odds are not in your favor. I would love to have a Picnic or Jelly colored petpet myself. I asked around, and no one is quite sure your stance on the matter. Please clear this up for us!~~fleurare
Go ahead! But use caution. Remember: if you remove a zapped petpet, it will revert back to its original colour and/or species*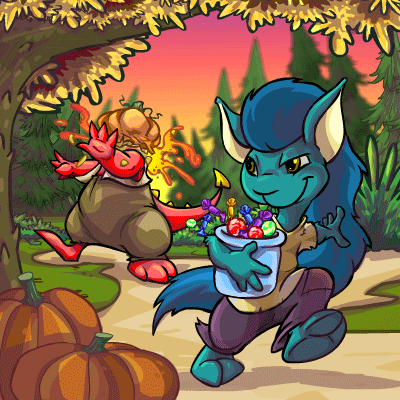 From Neopian Times, Issue 880. JN Editorial ID: 20339
---
Hello, I'm wondering if there has been any updates or progress with getting the That's Not Rubbish avatar working again? It seems it's still not being awarded to users. ~~xcrimsondemonbloodx
Sorry, none at all! No updates expected in the near future either. On the other hand, there has been progress with the Grumpy Old King, with new probability values decided for all the prizes that haven't come out through that daily yet. The next step is to actually implement the new values, and we'll let you know when that happens.
From Neopian Times, Issue 880. JN Editorial ID: 20338
---
Hi TNT! hands out Halloween candy So I've noticed that a lot of the new pet colors (like Oil Paint and Steampunk) have come out in pets that are not as popular as say Shoyrus and Kacheeks which are supposed to be the most popular of ALL pets. As a Shoyru and Uni fan, I'm wondering why popular pets are not some of the first among your new releases. Is there a reason for the order in which you release the new pet colors?~~noblenat20
Nope, none at all! Once we get the results from the poll, we usually release a few pets in the newly added colours soon after (whichever ones have their pet days next). After that, it's just a matter of picking two colours from all of the colours that are remaining for each pet. In some cases, the choice may be constrained by all the other art work the team has left to finish. However, when that isn't the case, there's no other criteria used to select the colours. Oh, except for requests to the editorial! :)
From Neopian Times, Issue 880. JN Editorial ID: 20337
---
Hi! The steampunk blumaroos seem to be having some issues with their emotions... the mouth just won't stop changing expressions! Can this be fixed? Thanks! :)~~knightwriter2010
Thanks for bringing this to our notice, we'll let the right people know.
From Neopian Times, Issue 880. JN Editorial ID: 20336
---
Hi TNT, hope you're all doing well. I was about to buy Cropped Auburn Locks from the NC Mall this weekend, when I noticed it was gone. I never saw an expiry date on it. Any reason for why it was removed all of a sudden?~~specioid
Oh that is so strange. I went ahead and put this back in the mall for you.
From Neopian Times, Issue 880. JN Editorial ID: 20335
---
So I see that someone figured out how to code a userlookup so that it looks like your pets are ucs (or whatever you want them to look like) and they change the name that shows up. They are sharing it with everyone on the pound chat and saying it's not against the rules. But I feel like it is or at least it should be. Cause if you can just use CSS to make your pet how you want then what's the point of the rest of us working hard to achieve that goal the regular way? What if the person who owns the pet Tina is so proud of their pet and now they see other people falsely owning 'Tina' and they are upset cause their pet is unique and now lots of people own Tina? I feel like it gives and unfair advantage and full of lies~~_sissiy_sis_369
Well, we didn't have a rule about this before, but we just made one for it now - Coding a user lookup to make your pets look different from what they actually are, or to change their names, is against the rules. Doing so can get you in trouble.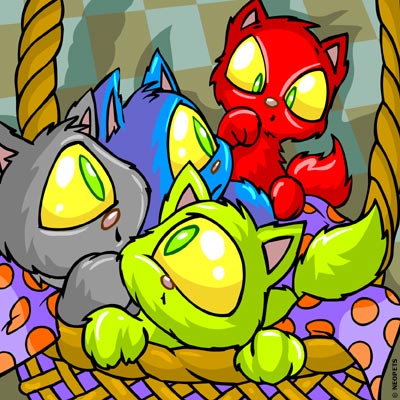 From Neopian Times, Issue 879. JN Editorial ID: 20331
---
Recently you've released new colors for the Jowlard, Nupie, and Mundo. However, the unpainted versions of these petpets have not been assigned a base color, so they cannot even be painted at the Petpet Puddle! Can you please fix it so these previously unpaintable pets can at least be colored to the newly released colors? :3~~howdareyoufreezeme1
Oh dear! Yes, a colleague will look into this next week.
From Neopian Times, Issue 879. JN Editorial ID: 20330
---
Would you guys consider removing the account age restrictions on adoptions? It's really frustrating to wait 4 months to move some pets around. If the answer is no, can you add some perspective on why these restrictions were put into place?~~silly_mistake
We cannot remove the account age restrictions on adoptions, as they were put in place to prevent scamming. I'm not going to go into details about this one, because I don't want to give unscrupulous minds any new ideas they may not have had until now!
From Neopian Times, Issue 879. JN Editorial ID: 20329
---
Good evening! hands a Bogie Berry in a cute little Halloween gift box It's freshly picked! ;D My question is in regard to the new Spooky Food items on the news. It would seem the Poison Apples and Rotting Veggies Salad have not been activated. Is there any chance they'll be activated soon? There are also other much older Spooky Food items that still haven't been activated yet, such as the Deadly Apple Pie, Elderly Apple, Forgotten Apple, Ghost Meepmallows, Refreshing Barrel Water, Spectral Cinnamon Rolls, and Sponge Apple. What gives? Do you hate us Spooky Food lovers? ;-;~~the_mausoleum
Boo, you're right about all of those items! Spooky Food lovers can now rejoice as all of the items here have now been made active.
From Neopian Times, Issue 879. JN Editorial ID: 20328
---
Oops! Usukicon Y20 Goodie Bag has not been retired yet, even though this year's 'Con has already happened and the new Usukicon Y21 Bag has been released. Could you fix that? Thanks.
Yes this has since been retired :)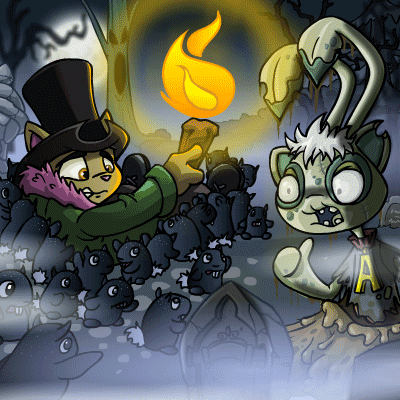 From Neopian Times, Issue 878. JN Editorial ID: 20327
---
There was one question from a restocker about Stackpath… something like 'hello there, we need to talk'. If you can find that, please show it to Devon along with this answer here and ask him whether it looks okay. Once he's approved of it, you can publish this one.
While Stackpath has been incredibly helpful with blocking malicious activity on the site, we are aware that innocent users have also been getting caught up in its net. Accordingly, we have been working with support to look into specific user requests and help them resume normal activity on the site. Just today we made additional modifications to minimize inconvenience to honest players. If you are still facing problems using the site normally, write to support and someone will look into it.
From Neopian Times, Issue 878. JN Editorial ID: 20326
---
Is there any chance we could get more plushies of the Food Club pirates? Some were released years back but there's still a lot of pirates that don't have plushies yet! I think many of us would appreciate a Gooblah plushie or a Stuff-a-Roo plushie!
Shiver me timbers, are we really short on Food Club plushies?! I'll alert me Cap'n immediately!
From Neopian Times, Issue 878. JN Editorial ID: 20325
---
Hello! Is the Pet Spotlight is on hiatus? It looks like hasn't been updated for a while.
Nobody's forgotten, work has already begun here!
From Neopian Times, Issue 878. JN Editorial ID: 20324
---