Your jnAccount:
Login
or
Register
| New to Jellyneo?
Click here!
Neopets Daily Puzzle Solution
Pick your news: Neopets News
| Crossword | JN Updates | Daily Puzzle | Altador Cup
The Daily Puzzle now updates randomly. Below is the question that we saw as most current. However, some days the question is updated in the middle of the day. If it updates, please alert us with the question, answer, and prize so we can update. :)
With the Neopets layout change in April 2007, the Daily Puzzle made its debut. Each day, a new question is posed to Neopians to test their knowledge of Neopian history, culture, and events. We provide answers daily below.
Visit the Community Central page to answer the question. When you have submitted the correct answer, you get a prize, usually between 200NP and 500NP, and sometimes with an item!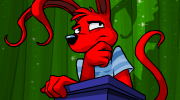 The Daily Puzzle for
Thursday, June 20, 2019
.
Question:
Who is the commander of Sakhmet City's armed forces?
Answer:
Dacon
The Prize:
288 NP
Complete the puzzle »
Get the answer right today? Help us to continue bringing you top notch Neopets help: