Your jnAccount:
Login
or
Register
| New to Jellyneo?
Click here!
Coltzan's Shrine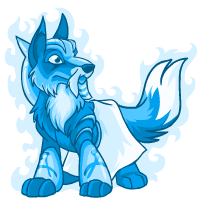 Deep within the dunes of the Lost Desert, there is the Shrine of Coltzan. It was created by Coltzan III's daughter, Princess Vyssa, to honour the late king forever... That was until the shrine's crown was stolen by two mischievous Meercas! Fortunately, Neopians around the globe searched all over for the crown and it was returned to its rightful place.
Now that his crown has been returned, Coltzan's spirit inhabits the obelisk to help the Neopets who visit. You can approach the shrine approximately every 12 hours, though this is reset every night at midnight, allowing you to visit once shortly before midnight, and again shortly after.
Time Guide
For years, rumours were spread that specific prizes were given out at certain times; this is not true. At one point early in the Shrine's existence, this may have been true, but it is no longer. Purported "time guides" give you no greater chance at a specific prize than a random click at any given time will.
Prizes
What can you win? Read on!
Neopoint Prizes

You can win Neopoints from the shrine--most of the time, it's just a few hundred, but there's also the famous (and extremely rare) one million Neopoint giveaway!
Dubloons

I'm not sure why Coltzan would have access to Krawk Island currency but he does! Dubloons! These are coins that can be used on Krawk Island to spend in shops or use as tuition at the Swashbuckling Academy.
Desert Food

Coltzan also gives your pet the chance to taste delicious and exotic pieces of desert cuisine. Of course, since everybody gets a chance to taste them, they aren't worth much on the shop wizard. And since he is a ghost, he messes up sometimes and gives you either squashed, burnt, scorched or spoiled versions of the food instead. Almost every Desert Food can be received.
Stat Increases

Of course, there's also the chance that Coltzan will increase your pet's Battledome stats (level, hit points, strength, defence, movement) or intelligence! He may raise them by just one point or by ten if you're really lucky.
Battledome Weapons

Coltzan wouldn't leave your pet defenceless! You may receive the following Battledome items from him: Coltzans Gem, Coltzans Burning Gem, Coltzans Ring, Coltzans Sceptre, Coltzans Diadem, Coltzans Necklace, Artisans Lens, Craftsmans Lens, Princely Lens, Expert Lens, Serfs Lens and Kings Lens, Stone Shield, Wooden Shield, Knights Shield, Golden Shield.
Healing

If Coltzan is feeling friendly, he may restore one or all of your pets to full health.
Nothing!

You can't always get something for nothing, you know! If you visit the shrine at the wrong time, Coltzan may deem you unworthy to receive anything. The sand may warm up around your feet or your hands may turn blue, but you'll just have to visit later for another freebie.
Help us improve!

Did you find what you were looking for on this page?
This article was written by: The Jellyneo Team