Your jnAccount:
Login
or
Register
| New to Jellyneo?
Click here!
Caves and Corridors: Mystery Island
Caves and Corridors: Mystery Island Information
World:

Trophies:

Neopoint Ratio:

0.44 Points =
1 NP

Our Difficulty Rating:

70%

[Send in a Game Tip] - [Return to the Game Guide Index]
In his latest adventure, intrepid explorer Jake is scouring the shores, jungles and caves of Mystery Island in search of the mystical tiki idol, a lost treasure of the Kawillawoa Kingdom. The road ahead is paved with action, excitement and danger... and Jake wouldn't have it any other way.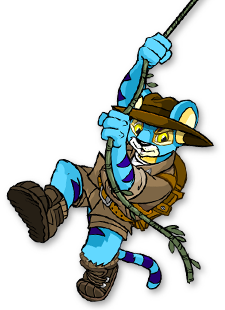 That blue Mynci's got nothin' on me!
How to Play
Caves and Corridors: Mystery Island is a fairly standard action platformer game, in which you use the arrow keys and spacebar to climb on vines and jump between platforms. Each level contains several golden treasures or gems, along with a piece of fruit native to Mystery Island which will end the level when collected. Gathering treasure will increase both your overall score for the current play session and your top score for the level it's found in, which is important in the unlocking of other levels.

What's treasure doing in a place like this, anyway?
Between levels you'll be able to navigate a map screen, from which you can choose to play any of the levels you've unlocked. Starting with level three, you're required to have a certain number of "trophies", or color-coded rankings, in order to unlock levels. Trophies are earned through getting a high score in a short amount of time, which will give you either a bronze, silver, or gold trophy for that particular level. Reaching the game's final level will require a silver trophy from the twelve previous levels. While this may sound like a difficult task, the game will save your progress, allowing you to resume where you left off (sans any points earned) when you get a game over. Once you've beaten the thirteenth level, however, your saved game will be deleted; due to this, it's recommended that you only complete the final level once you're prepared to send your score.
Caves and Corridors isn't all treasure and trophies, of course. It wouldn't be an adventure without a little danger, and Mystery Island has danger in spades. No, not that kind. In fact, the obstacles Jake faces this time around all happen to be made of stone.
Obstacles
| | |
| --- | --- |
| | These unusually bouncey boulders will continuously fall from the top of the screen, bouncing through the level in random directions. |
| | While these jagged rocks can safely be walked into, don't drop on top of them or stand above the holes that they sink down into. |
| | Like pretty much everything on Mystery Island, these statues are trapped, and will shoot darts if you remain in their line of sight for too long. |
Level Solutions
To view a level solution, select a level from the drop-down menu below. An animation will begin to play, showing you the quickest path through the level, and an accompanying text guide will appear under it. If you would like to replay the animation or restart it while it's already playing, press the Play Animation button next to the drop-down menu.
Caves and Corridors Level Solutions
Level:

Play Animation
Tips and Tricks
Type the code gimmeabreak (once per game) to gain an extra life.
Type the code freetime (once per game) to stop the timer for the duration of the current level.
Type the code nomorerocks (once per game) to prevent boulders from appearing in the current level.
Falling is faster than climbing down vines, so whenever you can, drop off the side of a vine to move downward.
Due to the way the game stores and loads the backgrounds for levels, the first time you load a particular background after loading the game itself, it will be set as the background all levels use. If you were to visit one of the cave levels first, then loaded a jungle level, the next time you went to a cave level it would have the jungle background. Using this trick, you can turn the stressful lava-filled final levels into a nice relaxing beach. Ahhh.

click to enlarge
If you'd like to know what became of the mystical tiki idol after Jake returned it to the Kawillawoa Kingdom, you can read the next chapter of the story by clicking here! I'll give you a hint: there's more adventure and excitement in store for our hero!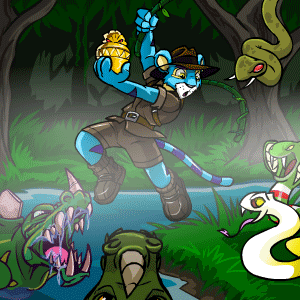 But of course!
Help us improve!

Did you find what you were looking for on this page?
This game guide was written by: Chesu