Your jnAccount:
Login
or
Register
| New to Jellyneo?
Click here!
Neopets Art Gallery Competition
Say, have you ever fancied yourself as a talented artist? If so, why not try placing yourself into the Art Gallery?
Yup, the Art Gallery is one of many contests that the Neopets site has to offer. For this one, you submit some of your own original Neopets fan art. If your image is selected, it will be placed and honored in the Art Gallery! You'll also get a shiny trophy for your user lookup, 10,000 neopoints and a random rare item!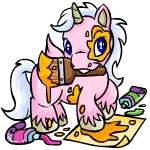 Getting Selected
Well some of the best times is when a Neopian holiday is coming up such as Gadgadsbogen, Krawk day or Jhudora day (Or even real holidays like Valentines or St. Patrick's). Usually the Art Gallery opens itself up to days with special themes, perhaps you've noticed how on Eyrie Day the Art Gallery features a new pages full of Eyrie pictures!
However, if you do plan to submit your art for a holiday, it's best if you submit it at least a week in advance. Often times the Art Gallery sets up its art the day before the actual holiday. Just another reason why it's usually not a good idea to wait till the last minute!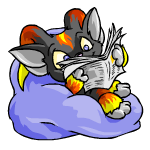 Check out the news or calendar for upcoming Neopet Events!
It's also important to note that you are only allowed to submit your OWN art. What does that mean exactly? It basically means you can only enter a picture that you've yourself made 100%. You might be able to get away with using some ideas from official neopets art but if you submit something created by anyone else, be it your sister, your second cousin, that weirdo on deviantART, whoever, YOU WILL GET FROZEN.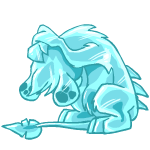 Frozen! Never to play Neopets again!
Why? Because you're taking credit for someone else's work, it's just like plagiarism. The same applies to tracings of other people's art, and tracing can mean either tracing directly or eyeballing a picture. For other not-to-dos check out the Art Contest Rules.
How to submit
Use the internet with the online form. Although it says that you can submit by mail in the Contest Rules, the Neopets Help Page says they can only accept online submissions. Looks like TNT needs to update their rules page!
Prizes
If your picture is published, you will earn 10,000 NP, a rare item and a trophy for your cabinet.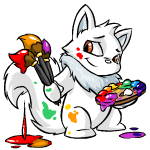 Fancy an art contest where the winners are decided by Neopians instead of TNT? Why not try the Beauty Contest!
Help us improve!
Did you find what you were looking for on this page?
This article was written by: DragonBeak