Your jnAccount:
Login
or
Register
| New to Jellyneo?
Click here!
News Archives
This page shows the available archives of our Neopets news. To start browsing, select a month below.
« Return to month listing
May Monthly Freebies!
Posted by Jen
Posted on May 1, 2018, 12:00 am NST
It's once again time to collect your
freebie foods
and neopoints!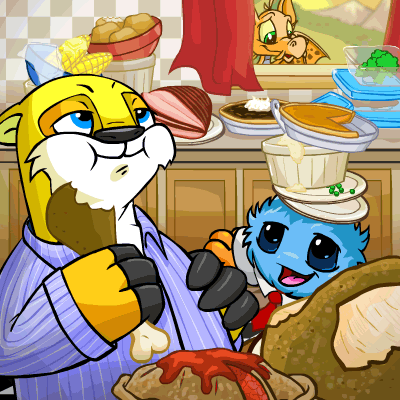 » Collect Your Freebies Now! «
Donations
If you'd like to donate to keep Jellyneo online and ad-free for 2018, you can read up on how
here
.
As a thank you for donating, we have shiny trophies available. All the info is on our
donation page
.
» Donate to Jellyneo! «

Lupe Day Roundup
Posted by Dave
Posted on May 2, 2018, 10:50 am NST
Lupe Day is coming soon to Neopia, and here's what's in store for them:

Water
Outfit:

Torpedo Lupe

Altador Cup Prize Shop Closing Soon
Posted by Dave
Posted on May 3, 2018, 7:03 pm NST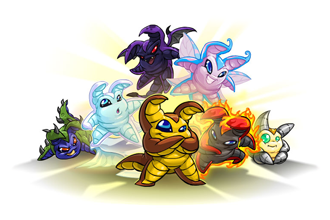 As a reminder, you have until Friday, May 11th (
only a week from now!
) to redeem your points for
Altador Cup XII prizes
and
Staff Tournament prizes
.
After May 11th, the prize shop will be closed in preparation of this year's Altador Cup. You will lose any unredeemed points and you won't be able to claim those prizes.
See All Prizes »

Hissi Day Roundup
Posted by Dave
Posted on May 4, 2018, 10:13 am NST
Another day, another celebration of a Neopet! This time, it's Hissi Day. Here's what's new:
Colours:

Steampunk | Polka Dot


Outfit:

New NC Fortune Cookie: Infinite Sands of Time
Posted by Dave
Posted on May 8, 2018, 1:42 pm NST
A brand new NC Fortune Cookie is available in the NC Mall, and this is another item cookie. It looks to be Lost Desert themed! Despite what the item's description says, it gives out 10 different items instead of 7.
We still need a lot of models for the items, so please take a look at our
Needed Models List
if you can help!
View our Fortune Cookie guide! »

Wraith Resurgence Coming to a Close
Posted by Dave
Posted on May 9, 2018, 6:16 pm NST
Update May 11th:
It appears that the plot has closed this morning. Aiden is now fully healed, and we have reports of fog disappearing from dailies.
In today's news, TNT has again alluded to the
Wraith Resurgence
coming to a close. If you have been meaning to complete the remaining steps and finish off the achievements that are still available, please see our
step-by-step guide
!
If this plot is (finally!) coming to a close, then we suspect a good time to do it would be before the Altador Cup begins, and with the
prize shop
(and
staff tournament prize shop
) closing this Friday, May 11th, the Altador Cup will probably be ramping up in the next week or two.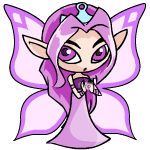 Step-By-Step Guide »

Neopets Support System Changing
Posted by Dave
Posted on May 9, 2018, 6:22 pm NST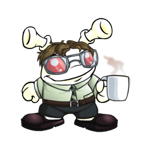 Today, TNT announced in the news that their support system will be switched out for something new:
Attention all! As of May 15th, we will be switching support systems. This means the tickets currently in our system will no longer be available to us. We apologies [sic] for the inconvenience, we are working to make this transition as smooth as possible but if anything changes we will let you know. We thank you and appreciate your patience during this time.
It sounds like the tickets that you currently have open will
not
be transitioned over to their new system. Once the new system goes live, we'll post another update letting you know more details (and if you need to file a new ticket for an old issue). We hope that a fresh start will lead to less lost/unanswered tickets.
And yes—this means that their Parature support system will finally be gone! Hopefully whatever new system gets implemented will eliminate the access issues that users have frequently run into in the past.

Wraith Resurgence Over
Posted by Herdy
Posted on May 14, 2018, 10:36 am NST
Following on from the removal of the majority of steps on Friday, this morning you may have noticed the plot Battledome Challengers disappearing from the dome. This comes along with the removal of all remaining steps, meaning the plot is no longer completable.

New dialogue from Fyora is now available on the
Headquarters
page, as well as a brief update from Kaia and Malum on the
Clearing
page. The wording of the latter update, however, implies that the synopsis to explain the story of the plot mentioned by Jade in a recent editorial is still to come.
If you noticed some of your previously completed achievements glitch to appear unclaimed last week, this also appears to be fixed and they are now showing correctly.

Moehog Day Roundup
Posted by Dave
Posted on May 15, 2018, 9:54 am NST
Here's some belated Moehog Day news.
Colours:

Elderly Boy | Elderly Girl


Outfit:

Tonner Doll

New Baby Neopet Pins
Posted by Dave
Posted on May 15, 2018, 10:43 am NST
It looks like
Overpowered
has released some brand new pins for pre-order starting today. This set is Baby-themed!
The pins can be pre-ordered today and will be delivered in June. As you may have seen in our previous Wardrobe Wars posts, we have a special referral link set up with Overpowered that gives us a 15% commission on any of your purchases—which all go towards paying our monthly hosting bills. Simply click any of the links in this post to be taken to Overpowered.
NEW INFO:
We received some more information about the pre-sale. Each pin you order while it is still in pre-sale will come with
two
Rare Item Codes! They will be delivered automatically via email with your pre-sale purchase. Shipping is also free within the United States, and it's free internationally if you purchase two or more.
In addition, we've received word directly from Overpowered that
every
Neopets species will be featured in the series at some point! (
Ogrin fans rejoice!
)
Browse Now »