Your jnAccount:
Login
or
Register
| New to Jellyneo?
Click here!
News Archives
This page shows the available archives of our Neopets news. To start browsing, select a month below.
« Return to month listing

April Monthly Freebies!
Posted by Jen
Posted on April 1, 2014, 12:00 am NST
Pinch and a punch for the first of the month! Time to collect your
monthly freebie neopoints and food
yet again!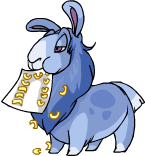 Moltara Mystery Event
Have you been keeping up with the Moltara Mystery event? Don't forget to keep working on the
Spaceship Interior
step and finish building those components just in case the step closes off at 2pm Wednesday (as mentioned in our post about the
final prizes
)!
» Spaceship Interior Guide «
Donations
We are almost half way to meeting our fundraising goal for 2014. If you are able to donate to help keep JN online and ad-free, please check out our
Donation Page
with our thanks!
» Donate to Jellyneo «

April NC Collectible
Posted by Rylon
Posted on April 1, 2014, 10:55 am NST
The first item from the new
Merchant's Best Collection
has now been released, and features Battle Supplies shopkeeper,
Remnok
. This wrap will only be available during April.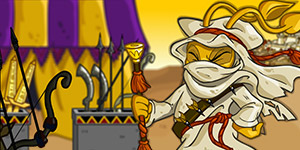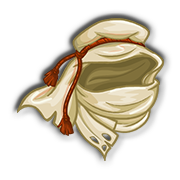 Caption Contest #1552
Posted by Rylon
Posted on April 1, 2014, 11:51 am NST

Shoyru Day Roundup
Posted by Rylon
Posted on April 1, 2014, 1:53 pm NST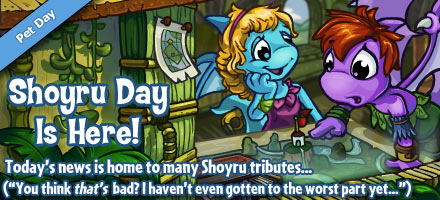 Colours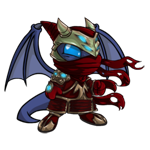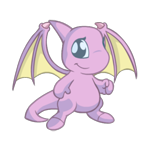 Stealthy | Pastel

Clothing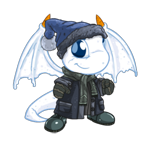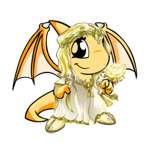 Spaceship Interior
Posted by Herdy
Posted on April 2, 2014, 2:10 pm NST
The Coincidence
appears to have become a new daily! The format remains the same (gathering quest items), though the rewards are different.

The daily is now working! It seems to have a variety of outcomes, so help us out by telling us about them :P
We have a basic guide up and running
here
, but we still need your help on any prizes and information we're missing!
Please check the page before sending in reports! We are mostly getting duplicates at this point!
» Tell us your outcomes «

Bloomin' Neggs Is Back!
Posted by Rylon
Posted on April 3, 2014, 10:16 am NST
Update
: Our guide is now available!
» Bloomin' Neggs 2014 Guide (NC) «
Bloomin' Neggs
has returned again this year! This NC event lets participants spend 20 days growing four different plants - which award new NC items along the way! It looks to follow the same pattern as last year, so check out our
2013 Guide
while we work on this year's guide!
This event will run between April 3rd and April 22nd, 2014, and will award a bonus item if you participate in all 20 days. You can view the full
FAQ
or check out our quick recap below!
What is Bloomin' Neggs?
Bloomin' Neggs is an NC Mall event where you grow Neggs to receive NC item prizes daily! There will be four Planting Kits that will be released at the NC Mall during this event. Each kit can be used to grow a specific pot of Bloomin' Neggs. Each pot will have five stages of growth to care and collect prizes for. Once you activate your Planting Kits, visit the Bloomin' Neggs page to begin the fun.


What is the duration of Bloomin' Neggs?
Bloomin' Neggs will run from April 3rd through April 22nd. You can participate any time within that period by purchasing Planting Kits in the NC Mall.


Can I collect item prizes for days that have passed?
Yes, prizes can be collected on days that have passed or on that day. Simply click on the pot to activate your Planting Kit and begin claiming your prizes. If your pot turns yellow after you claim a prize that means there are more prizes for you to collect. There are a total of five stages for each plant.


Can I participate in Bloomin' Neggs on my side account(s)?
Yes, you can participate in Bloomin' Neggs on your side accounts.


I purchased a Planting Kit, how do I get my prizes?
Simply visit the Bloomin' Neggs page and click on the corresponding pot that matches your Planting Kit. Once you activate your Planting Kit you can now begin growing your Neggs! Be sure to come back daily to grow and collect your NC item prizes!


I'm trying to activate an additional Planting Kit, why isn't working?
It's possible you have already activated the same Planting Kit. You will only be able to activate each Planting Kit once.


Will I receive a bonus item for participating in Bloomin' Neggs?
Yes, you will receive a bonus item prize if you have participated and activated all four Planting Kits. As you activate each Planting Kit, the Negg on the right side of the page will slowly bloom. Once you activate your fourth Planting Kit, you will be able to unlock your exclusive bonus prize!

Random Events Return
Posted by Leaf
Posted on April 3, 2014, 10:06 pm NST
The normal random events we all know and love appear to have returned to Neopia. We will have an updated article for these new random events soon.
Update:
We have a collection of random events' images
here
if anyone wants to have a look.

Random Event Guide
Posted by Dave
Posted on April 6, 2014, 2:53 pm NST
We have finished compiling our new
Random Event guide
!
We are still missing data, such as the images that come with some events. We might also be missing some events altogether, and we want to make sure that the effects are correct as well.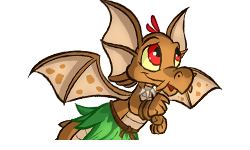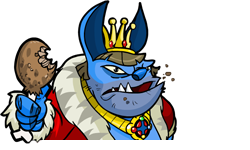 So, if you see anything amiss in the guide, please send in a bug report! You may do that by scrolling to the bottom of the guide and clicking "No" to indicate you didn't find what you were looking for. :)
View the Guide »

Cybunny Day Goodies
Posted by Rylon
Posted on April 9, 2014, 2:05 pm NST
Colour

Stealthy

Grey Week Roundup
Posted by Rylon
Posted on April 11, 2014, 4:30 pm NST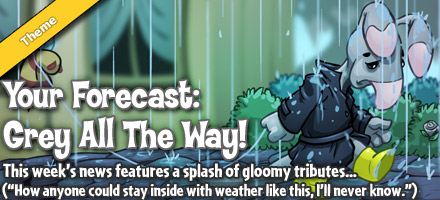 Colour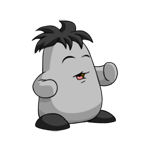 Grey Chia

Petpets



Grey Gwalla




Grey Crokabek | Grey Wherfy

Food



Foreground & Background