Your jnAccount:
Login
or
Register
| New to Jellyneo?
Click here!
News Archives
This page shows the available archives of our Neopets news. To start browsing, select a month below.
« Return to month listing

May Monthly Freebies
Posted by Jen
Posted on May 1, 2013, 1:33 am NST
I don't know about you but I certainly cannot believe it's time again to collect your
Monthly Freebies
again. There's no funny business at work, it really is a new month, so hop along and get your free food and 2000np!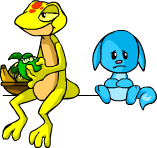 Donations
It's our aim to raise the funds needed to keep JN online and ad-free for 2013! We are heading towards the half-way point in our goal and need your help!
Everything you need to know about
donating to JN is here
including a handy-dandy thermometer to track our progress! I may sound like a broken record but donating is definitely not necessary - everything we offer including our
Forums
,
In-Depth Battlepedia
and
Wardrobe
are, and will remain, completely free to use.
If you are able to donate, we will be eternally grateful! As a little bonus thank you there are special trophies available for your jnAccount trophy cabinet, as modelled by the lovely
Dave here
. Bribery? Nooo, never!

May NC Collectible
Posted by Rylon
Posted on May 1, 2013, 10:05 am NST
May's NC Collectible features the
Qasalan Mummy
. As this is the fifth and final item in the Defenders of Neopia set, those who have purchased all five items will receive a bonus background!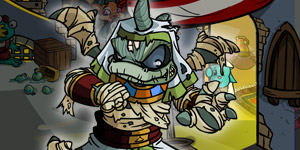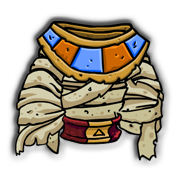 Lupe Day Roundup
Posted by Rylon
Posted on May 1, 2013, 3:31 pm NST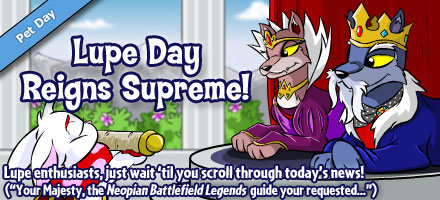 Colours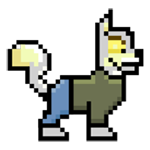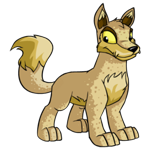 8-bit | Biscuit

Morphing Potions



Clothes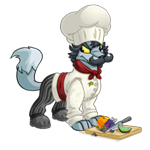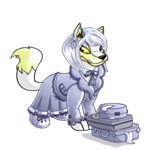 Battle Begins Again!
Posted by Max
Posted on May 2, 2013, 12:08 am NST
It appears that the battling in Tyrannia is far from over. If you visit the
Battleground of the Obelisk
, you are now prompted to battle the challengers from the 2 opposing teams. All of the challenger waves are unlocked. If you head over to
iDBs Challenger Profiles Page
, you can find all of the challengers that are currently available for battle and their profiles (and the ones for the inactive factions). The non-war challengers are also still active!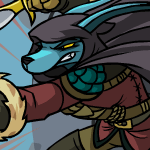 Did you miss me?
The battle will be ending in 11 days, make sure you get your battles in before the deadline!
Update:
The Battle has been shortened and will now be going for a total of 4 days.

The daily Faerie Quest Event has returned!
Posted by Nick
Posted on May 2, 2013, 12:42 am NST

By visiting the
Faerie Quests
page, you can claim one free faerie quest per day. Like regular faerie quests, the quest you receive is random. While you're there, you will also receive a free item for each day that you visit. In past years, an exclusive bonus prize has been awarded for visiting each day, but completion of the quests was not necessary. We're not sure if there will be another bonus prize this year, but it's probably better to visit each day just in case! To learn more about the Faerie Quest Event, visit our
guide
!
Did you receive an item we don't have on our list yet? Submit a
bug report
or let us know in the comments below!
Update:
It turns out that a special bonus prize
will
be awarded to those who visit every day, so don't forget! (It might be a good idea to add the faerie quests to your
JN Dailies
!)

Caption Contest #1308
Posted by Ian
Posted on May 2, 2013, 10:30 am NST

Hissi Day Roundup
Posted by Rylon
Posted on May 3, 2013, 2:25 pm NST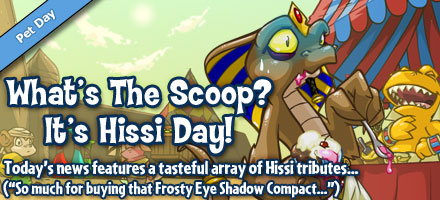 Colours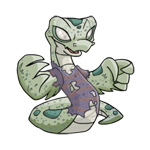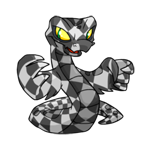 Zombie | Checkered


Cupcakes


Clothes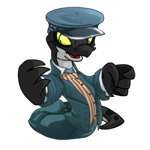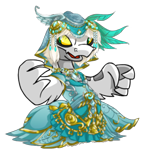 The Thieves Guild triumphs on the Battleground
Posted by Kumar
Posted on May 6, 2013, 12:10 am NST
It seems the Thieves Guild has triumphed on the
Battleground of the Obelisk
. Those who joined the Thieves have been awarded a new avatar, a site theme and the chance to select from 5 different boons.

With the truce ending in another week, it seems that this will be a weekly event. Will it end when all have had their share of the boons, or will it be somewhere for Neopians to have a fun battle on a continual basis? Let us know what you think will happen in the comments.
Update:
We now have
a guide
for the Battleground of the Obelisk.

Unreleased Petpets
Posted by Rylon
Posted on May 6, 2013, 2:25 pm NST
More petpets join those we revealed on
May 3rd!
.



Water Blobagus | Water Slogmok

Mysterious Morphing Experiment 15!
Posted by Ian
Posted on May 7, 2013, 10:29 am NST
The fifteenth Mysterious Morphing Experiment is now available at the NC Mall!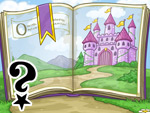 Future stages look like a handheld staff, foreground, dress, skirt, wig and another background! Feel free to take some guesses in the comments or on the
forums
!