Your jnAccount:
Login
or
Register
| New to Jellyneo?
Click here!
News Archives
This page shows the available archives of our Neopets news. To start browsing, select a month below.
« Return to month listing

November Freebies
Posted by Suzuka
Posted on November 1, 2011, 8:27 am NST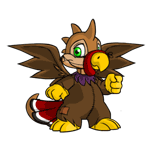 November is here, so don't forget to grab your free food and 2000np at the
monthly freebies
.
This month Neo will be celebrating its
12th
birthday, so don't forget to keep an eye out for special deals and extra game plays all month long!
The NC Mall Famous Dailies November collectible will feature
Marina
from the Healing Springs. Soon you will be able to adorn your pet with her lovely locks. This item will only be available in the NC Mall during the month of November.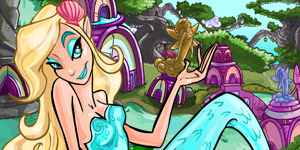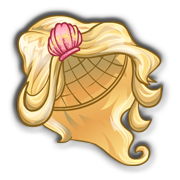 MME Stages:
The
Like A Baby Foreground
Mysterious Morphing Experiment will be on sale in the NC Mall until November 12th. Possible upcoming stages might include: A Desk, Dental Gear, Face Acne, Neohome, Dream Collection, Spectacles, Silver Wig, Walker, and Grave Background.
Caption Contest 1231: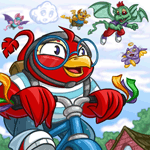 Pteri Plushies:



Baby | Darigan

Usul Goodies:



Xweetok Plushies:



Ghost | White

Disco Petpets:




Acko | Patamoose

Zombie Gobbler:


Slorg Item:

Now Hiring!
- In addition to Content/Petpet Park writers (open applications on an ongoing basis), JN is also accepting letters of interest from those who'd like to help out with the
In-Depth Battlepedia
as it makes its re-debut here at JN. For more information, check out our
Now Hiring
page!
Donations
- If you've been following our progress, we finally made our goal! Although we do not need any more contributions to support JN for the remainder of the year, you can still
donate to Jellyneo
and receive the shiny 2011 Donation Trophy for your trophy cabinet! (Which will be retired on December 31st!) The extra funds, of course, will carry over to next year when we begin our next round of fundraising.

Good News! + Item Updates
Posted by Dave
Posted on November 2, 2011, 12:36 pm NST
Good news, everyone! Some of you may have noticed the slower updates on Treasure Keepers, along with the lack of visible Meteor Games staffers on their forums. Wild rumors went viral, but it was all for naught. Treasure Keepers is here to stay. Meteor Games just needed all hands on deck to put out a fire with one of their other games.
Hi everyone,

Firstly Butch, thanks for taking the time to write such a creative and well written post. Your comments about pricing have been noted and we will discuss possible changes with our game designers.

So, it seems you are all wondering what is happening with NTK.

As you may have noticed we have slowed down development on the game for the time being. We are still working with Neopets, and there are no plans to retire or otherwise discontinue the game.

We are still supporting NTK and will be continuing to post updates periodically. We have a new update tentatively scheduled for next week which should fix a number of bugs and reduce the game height dramatically. These fixes are being QA'ed right now so it is a bit early to say for sure if they will be next week or the following, but it will be soon. Additional content, levels and items are in the works also.

You have seen less of our support staff as they have all been working their socks off to deal with the aftermath of the recent IP outage. We are almost caught up there, and you should see more of Juniper and all in the near future.

Hope that answers your questions,

Thanks for caring,
Griffy Meteor
So, keep on leveling, adventuring, and fulfilling those pesky demands of Michelle!
Also on that note, we've went through and updated all of our item lists to include updated rarities, updated suggested prices (which are difficult to find in game!), and locations for what adventures items can be found on. A good chunk of items can be found everywhere, but a bunch are also only available from specific boards.
If you notice any errors or have suggestions, feel free to
contact us
!

Christmas Plushies
Posted by Nynex
Posted on November 7, 2011, 11:54 am NST



Chomby | Jubjub

Pteri Day Roundup
Posted by Nynex
Posted on November 7, 2011, 3:02 pm NST
Marquee: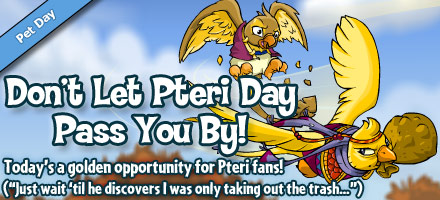 Colours: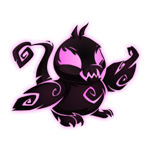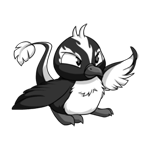 Wraith | Skunk

Clothes: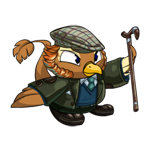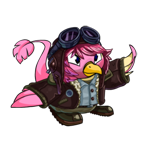 Plushies:



Baby | Darigan

New Wonderclaw Machine - Royal
Posted by Illusioniste
Posted on November 8, 2011, 11:38 am NST


Out with cloud, in with royal! The new machine offers twenty lavish prizes.

You can see all of them in our Wonderclaw guide!
Models for the following items would be much appreciated! Click on the thumbnails to go directly to the previews.














Snowager Update
Posted by Nynex
Posted on November 10, 2011, 2:55 pm NST
For those who have recently ventured into the Ice Caves for some treasure, you may have noticed the
Snowager
has received an update.
Battledome Item:

Bruce day is coming next month. We have stumbled upon this upcoming instrument.

NOTICE - The Maintenance Myncis informed us that, for some unknown reason, a whole bunch of water leaked into the servers. In order to properly dry them out, the site may have to go down for a while tonight. Please take note that from between 11 PM to 1 AM NST, the site will be shut down. Thank you for your patience, and take care not to slip on any puddles!

New Petpet Colours
Posted by Nynex
Posted on November 11, 2011, 2:59 pm NST



Faerie Noilkeet | Royal Razumi

NC Mall - Free Goodie Bag, Discount Code, and Super Sale
Posted by Illusioniste
Posted on November 14, 2011, 11:13 am NST
The
Festive Balloons Goodie Bag
is now available to be claimed in the
NC Mall
. It shows up right when you enter, under New Items. You are allowed to claim the bag on your side account(s) as well.
Inside, you will find a
Spinning Neopian Globe Staff
. Please help us model it if you can!


Discount Code:
Enter BIRTHDAY12 at checkout and receive a 150NC discount on purchases totaling 1,000NC or more. This offer can only be used once per user and ends on November 20th.
Super Sale:
The sale shop is open in the Mall. Prices are slashed by 50% on select items (more are added daily). After the sale ends on November 20th, the affected items will be removed from the Mall!

Blumaroll Returns!
Posted by Illusioniste
Posted on November 14, 2011, 12:37 pm NST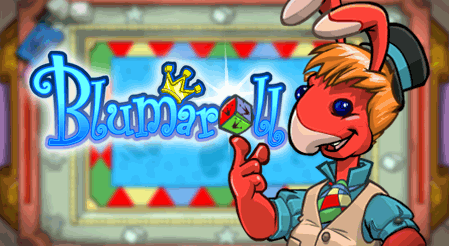 Dice packs are once again being sold in the
NC Mall
. They will be there until December 12th.
You know what this means: new Blumaroll prizes! You can view all the tier items in our
Blumaroll guide
.
This also means that, yes, we need models! (So many new wearables...) Click on an item thumbnail below to be taken directly to the modeling page.













Happy 12th Birthday, Neopets!
Posted by Illusioniste
Posted on November 15, 2011, 1:20 am NST

Today, the site is sporting the very festive
Happy Birthday site theme
, which is said to increase your chance of receiving a random event!
Other activities:
This year's birthday goodie bag does not seem to be activated yet, but when it is, you will be able to purchase it from the
Toy Shop
.