Your jnAccount:
Login
or
Register
| New to Jellyneo?
Click here!
News Archives
This page shows the available archives of our Neopets news. To start browsing, select a month below.
« Return to month listing

All Is Quiet On New Year's Day
Posted by Dave
Posted on January 1, 2011, 12:00 am NST
It looks like something mysterious has appeared....


Ah, the never ending flow of sand through an hourglass... Did you all have a good 2010? Perhaps it all seems like a blur now. Well, we've chosen to highlight some of the more memorable moments of this year, so won't you come and reminisce with us before the Neopets portion is packed and shipped off to the
Neopian Museum
?
Neopets

January

- The Second Annual Neopies celebrates the best in Neopia. Don't cry, TDMBGPOP, you won!



February

- The Daily Dare starts early, with a new staff tournament to boot! Were you able to get Grandultimate Scoretacular?



March

- Kari changes things up and has plenty of riddles and quests for the Festival of Neggs



April

- You got pie in your eye -- HA!
- Tarla's Tour of Mystery keeps many Neopians awake and alert



May

- Altador Cup V! I'm in your game, beating your team...



July

- Pets strut their stuff for Neopia's Style Showdown. Make it work!
- The Neopian Conservation Society starts a campaign to Save Neopia's Wheels with revamps



September

- Disaster strikes the Faerie Festival, and thus begins the downward spiral of Faerieland in The Faeries' Ruin plot. Battlers rejoice! Puzzle solvers rejoice! Half of Mr. Insane's beard rejoice!



October

- Apple Bobbing Bart sets up his tent at the Haunted Faire
- The 13 Days of Trick or Treat brings spooky attire to NCers



November

- AAA sends the community into a gaming frenzy with the Games Master Challenge. It's a double rainbow, all the way. Whoa that's so intense!!
- Petpetpet Habitariums (open beta) launch



December

- The Advent Calendar provides 31 days of holiday cheer. Hubrid will never be truly dead, as long as we remember wear a part of him on our pets always~
- Win your dream pet for Christmas!



All Year Long

- New games, wearables, avatars, contests, pet colours, and redesigns!



Jellyneo

January

- A guided tour of Neopia--no reason to get lost now!
- Book of Ages makeover--with improved search!



March




April

- A new plot...? *gasp*
- Our Negg Hunt carries on the tradition of stumping users everywhere, with the help of the now infamous safe puzzle. Mwahaha!
- TARLA! The JN Twitter playlist goes on and on...



May

- Everyone's favourite overlord sets up his own department: Dr. Sloth's Neopets Image Emporium
- Ten minutes to change into your uniforms for our Altador Cup Staff Tournament! *blows referee whistle*



July

- Some JNers manage to meet TNT at Comic Con!
- A new Neoboard Fonts section opens up



August

- So...thirsty... Need...soda...
- Learn all about Neopia's past with the grand opening of the Neopian Museum
- Soda Wars ends, JN turns 6 years old! (They grow up so fast *sniff*)



September

- Want to see what furniture looks like in your home? You can with Neohome 2.0 previews



October

- The forum shoutbox returns! (At least 2 words per shout, please!)
- Trick or treat, smell my feet, give me a Halloween costume contest to eat?!



December

- Item estimated values is added to the database to aid Attic shoppers
- Happy holidays from the JN staff! Do you recall the most red-faced admin of all?



All Year Long

- Unreleased news, editorials, karaoke shenanigans, new articles/guides, surveys, Petpet Park coverage, and feature spotlights!
Since it's a new month, don't forget to collect your monthly freebies of food and 2,000 NP!
As Jellyneo heads into 2011, we'd like to take this opportunity to talk about something important:



An Important Announcement





Help Keep JN Up And Running

This was a terrific year for us--we had over 87 million page views across all sections and departments of the site (not just the front page). A lot of that can no doubt be contributed to the Faeries' Ruin plot, which we were very excited to see and cover in

our guide

. However, it also meant we had to pay a bit more in server costs, to ensure the site did not crash at an inopportune time. As such, we are beginning to run low on the funds that we received in 2010.

As of right now, Jellyneo only has enough money to last until February 2011.

We prefer not having any third party advertisements on JN, so if you have some extra spending money, please consider making a donation. There are two ways to help:
By using PayPal


By purchasing web hosting using our referral code
Our goal is to raise $2,000 (US dollars) to cover all of our web costs for this year.
Donations go straight toward paying our hosting bill--we cannot cash it out. We do not see your personal information, only a summary that includes your e-mail address.
Full details are on our Donate to Jellyneo page, which will display how much we have raised for 2011.
Shiny, brand new trophies will also be awarded if you donate more than $10 (US dollars). These will look different from the 2010 trophies and will appear in your
JN trophy cabinet
.
What if you cannot or do not want to donate? That is quite alright, but you can still help by spreading the word about this announcement. Jellyneo is a site run by Neopets fans for Neopets fans. The staff members here are all volunteers. We love what we do and appreciate all the support we get from our visitors. Thanks for a great year!

January Menace and Michief NC Collectible
Posted by Nynex
Posted on January 3, 2011, 9:33 am NST
The January NC Mall Menace and Mischief collectible features
Mr. Krawley
. This item will only be available in the NC Mall during the month of January!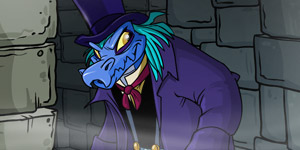 Gnorbu Day Roundup
Posted by Nynex
Posted on January 3, 2011, 3:26 pm NST
Marquee: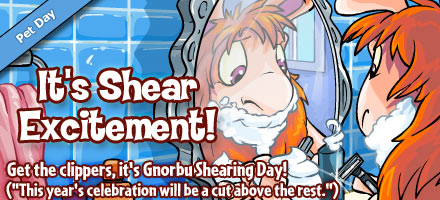 Colours: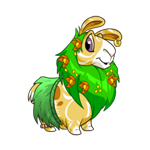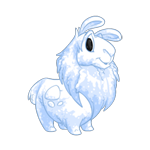 Island | Snow

Clothes: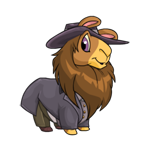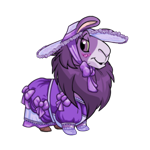 Plushies:



Speckled | White

New Mutant Petpet Colours
Posted by Nynex
Posted on January 4, 2011, 2:08 pm NST



Gulper | Naalala

Habitarium: Snow and Winter Items
Posted by Nynex
Posted on January 7, 2011, 10:03 pm NST
As mentioned a few weeks ago, we discovered a new set of
snow ink droppers
for each P3. A few more wintry themed items are coming to the Habitarium for NC shoppers. You can keep track of all the new (and old)
Habitarium items
in our item database.


Jubjub Power Bounce: Winter Prize Preview
Posted by Nynex
Posted on January 7, 2011, 10:03 pm NST
The Jubjub Power Bounce Terror Mountain Holiday Token set will be retiring on January 13th. A new set of winter tokens and prizes will be coming soon. For a full listing of all the current prizes, see our
Jubjub Power Bounce Guide
.
Prizes:
Winter Tokens:




Caption Contest 1176
Posted by Nynex
Posted on January 10, 2011, 10:24 am NST

Third Annual Neopie Awards
Posted by Nynex
Posted on January 10, 2011, 10:29 pm NST
The
Third Annual Neopies
has begun. Vote each day to determine the best in each category. Make sure not to miss a day, and you will earn yourself a special item. Tell us what you think about each category in the comments!

And the winner is...
Third Annual Neopies Guide
A brand new award will be available this year. A dung trophy (as seen in the news banner) will likely be awarded to the winner of the worst of 2010. (Perhaps Tarla's Tour of Mystery will rank among those. :P )

Sloth Appreciation Day
Posted by Nynex
Posted on January 13, 2011, 12:13 pm NST
Marquee: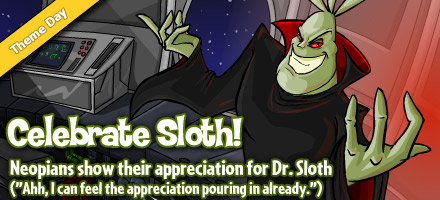 Caption: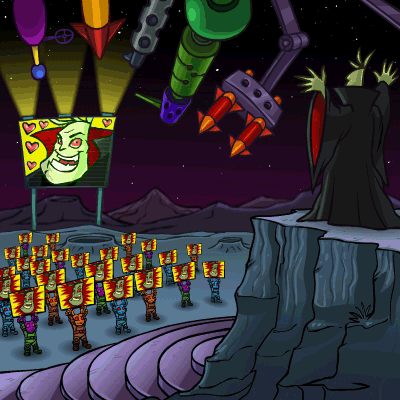 We love our master!
Mutant Acara: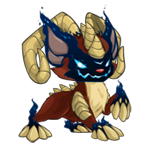 LIFE SIZE!

Habitarium Updates
Posted by Nynex
Posted on January 13, 2011, 3:05 pm NST
A Mysterious Discovery
Habitarium Beta has received a few bug updates. If you are still new to the game, you can visit our
Habitarium Guide
, and get started building today!
We pushed a new build, here are the following bugs that should now be fixed:

1)Blank Stage
2)The Pebble and the Twig Hammers should work now
3)P3's should behave normally after putting them in and out of structures
4)The Crystal Ball and the Rainbow Spring should now show up correctly.


We have added two new features:
1)Infobubbles - These change the default to show your health/hunger/rest. The tutorial has been updated also to say how this works.
2)The Face of the Dead P3 and within the infobubble is updated.

We hope you are enjoying Habitarium. Please continue to send your feedback and keep a look out in the next couple of weeks for new 'chilly' items and new features!
Upcoming New Items:
Jubjub Power Bounce:
Check out our
prize guide
for the new winter items!