Your jnAccount:
Login
or
Register
| New to Jellyneo?
Click here!
News Archives
This page shows the available archives of our Neopets news. To start browsing, select a month below.
« Return to month listing

Advent Calendar and Monthly Freebies
Posted by Nynex
Posted on December 1, 2008, 12:00 am NST

December is here, and that means a whole month of collecting fun prizes from the
Advent Calendar
. Check out our
Advent Article
for a list of prizes. Don't miss a day and hopefully you will unlock the
Winter Holiday
site theme. Be sure to add the Advent daily to your
Dailies Do-er
by heading on over to the
Dailies services portal
.
And as it's December, it might not hurt to start creating a wishlist for Santa (or your NeoFriends)! You can use
My Wishlists
to help make it easier for both you and your NeoFriends. Simply
Create a jnAccount
, add the Wishlists service (by clicking on Services up top), and head over to
My Wishlists
to start creating your wishlist!
Monthly
Freebies
! Boy have you been good this year. The goodies just keep on coming! Yes, you may now
collect
December's monthly free foods and 2000NP!

The
Games Master Challenge
is on its last day, so you will need to finish up all your challenges before the end of today to receive that shiny trophy. Check out our
Challenge Guide
for help with secret challenges and tips. (Challenge glitches fixed!)
Finally, as requested, we now have a list of the
special prizes
awarded when
redeeming a code
from the
Puzzle Adventure
Game.

New Frowny Colours
Posted by Nynex
Posted on December 1, 2008, 4:39 pm NST





Disco | Orange | Purple | Starry

Neohome Holiday Giveaway
Posted by Dave
Posted on December 1, 2008, 9:01 pm NST
There is a new giveaway for the new Neohomes. For the duration of the holiday season, you can redeem two free holiday related furniture items to furnish your Neohome 2.0! :) To claim the first one, simply visit the
Neohome homepage
, scroll down to news, and where it says "claim your prize", click the link!
For the second prize, you need to enter your Neohome into the
Neohome Spotlight
. Simply type a title and a decent description for your Neohome and enter it. On the confirmation page, you'll be presented with a cute red Cybunny, a note saying your Neohome was entered, and a link below that to claim your second prize!
Just a note... both items will show up in your
Storage Shed
, so don't go looking in your inventory!

New Shopkeepers
Posted by Nynex
Posted on December 2, 2008, 3:24 pm NST
Have a hot cup of cocoa, or even Borovan ;)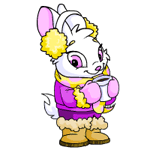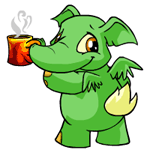 Bruce Day Goodies
Posted by Nynex
Posted on December 3, 2008, 3:30 pm NST
New grooming items for your Bruce.
Items:

Puzzle Adventure Updates!
Posted by Suzuka
Posted on December 4, 2008, 10:57 am NST
Neopets Puzzle Adventure was recently released for the Nintendo DS, Wii, and PC. The wonderful people over at Capcom were kind enough to send us a few copies for testing; I'm currently playing the DS version, while Dave is checking out the PC release. We'll be aiming to get through them relatively quickly (but without missing anything!) so we can bring all of you our reviews of the games, let you know what's different between the versions, and provide some helpful information!
We've given you lots of little tidbits about Puzzle Adventure over time, and since it was released on November 25th, just over a week ago, we'd like to remind you about it with this quick recap!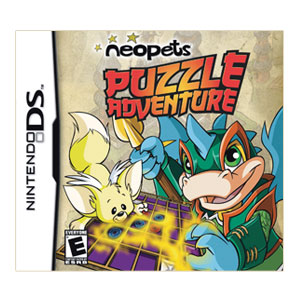 The first appearance of Puzzle Adventure on JN was back in June, when we posted an official
preview
of the game, with information from several major gaming sources.
In July, we gave several sources for screenshots - including the ones still viewable over at
IGN
, for the Wii version. Those who want to see more up-to-date screenshots should check out the official
Puzzle Adventure
page over on Neopets, which has more up-to-date screenshots for all three versions, and is also the homepage for submitting your codes.
Back in early November, we posted the
trailer
for the upcoming game, courtesy of Capcom. Not long after (a few days before the official release), we received a game
demo
, which is still playable!
Wondering what prizes you can get from Neopets Puzzle Adventure? As Nynex posted a few days ago, you can view all the prizes currently known to come from the game's codes
here
.
For more information on this and other Neopets merchandise, make sure to check out our affiliate site,
Neomerch!

Caption 965
Posted by Nynex
Posted on December 4, 2008, 2:08 pm NST
Candy shop is decorating some new confections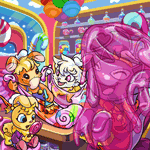 Bruce Day
Posted by Dave
Posted on December 5, 2008, 5:06 pm NST
Bruce Day is ready to go live soon! :)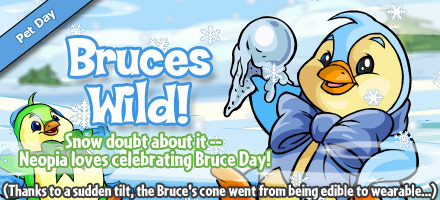 Clothing: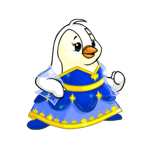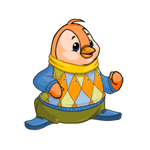 Color: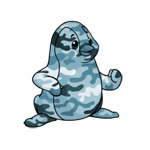 Camouflage

Grooming Items:


Caption 966
Posted by Nynex
Posted on December 8, 2008, 12:56 pm NST
An all-out snowball war has broken out on Terror Mountain!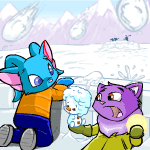 Shopkeepers 2096 & 2097
Posted by Nynex
Posted on December 8, 2008, 2:05 pm NST
Get some chestnuts ready to roast with these new shopkeepers