Your jnAccount:
Login
or
Register
| New to Jellyneo?
Click here!
News Archives
This page shows the available archives of our Neopets news. To start browsing, select a month below.
« Return to month listing

Welcome To...
Posted by Terry
Posted on June 1, 2007, 2:38 pm NST
Welcome to Fyora Day.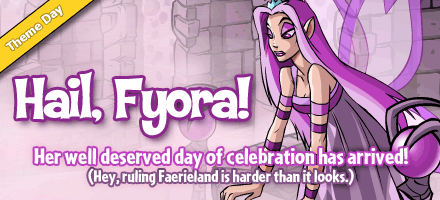 Click For Larger Image

Altador Cup 2 Stuff
Posted by Terry
Posted on June 1, 2007, 2:41 pm NST
Well, we found Shenkuu stuff last night. Here's the game stuff. (AND LOOK, TWO [or THREE] MORE YOOYUS!) D: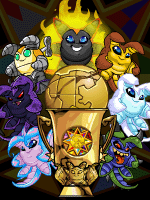 Game Center
You can check out Shenkuu news two posts down!

Slushie Slinger and Make Some Noise and Freebies
Posted by Terry
Posted on June 1, 2007, 4:33 pm NST
The
Altador Cup
has been released, and there's really two big things you need to know:
1) You
cannot
switch teams.
2) You have until
June 4th
to pick your team for Round One.
You can click
here
for our
Altador Cup
coverage!
You can also browse through our collection of
support banners and avatars
!
---------------------------------------
Well, here's Slushie Slinger. (Ugly border around the larger button, by the way.)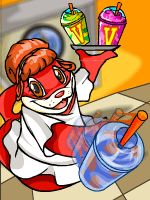 Game Room
... and Make Some Noise.

Game Room
FYI, they both looked like Sponsor Games for some reason. (7-11 Games look quite like this... :P)
---
With all of the Altador Cup excitement, don't forget your
Monthly Freebies!




NeoQuest 3D
Posted by Terry
Posted on June 2, 2007, 9:48 pm NST
If you're looking for something quite fun (and boring at the same time) to do over the weekend, NeoQuest 3D is for you! Head to
Meridell Castle
and click on the large Meridell flag by Kayla's Potion Shop. (This only works on the HTML map.)

OH NO - A /BORING/ version of NeoQuest? *slashes NeoQuest 3D*
"Welcome to NeoQuest 3D
You are a stereotypical Neopian hero who has just awoken in a small, grassy clearing. You are not sure how you got here, but various senarios of evil plots by villainous masterminds rush through your head. Eventually, you come to the conclusion that your friends are just messing with you again.
You shrug and look around..."
Hit the comments for a map of the stuff I've done so far. It's hard to read but it's a okay map. :P
--------------------------MAP-----------------------
S --> Wide dirt path through the trees.
Hit N (Continues to lake)
KEY NEEDED!
N --> Small Neohome
Enter house (Y)
Get part of Key
Head back S
E --> Dark Forest
Eaten by Jurple (GAME OVER!)
W --< Dimly lit path
-- N --> MOVE
---- W --> MOVE
------ S --> MOVE
-------- W --> Out of woods
---------- Approach Water Faerie, find metal, RUN
(
MOVE
= Moving to next level [ONLY FOR ABOVE MAP])
N --> To Neohome
-- N (DO NOT ENTER)
---- E --> Large clearing
------ N --> Uninteresting path
-------- N -->
-------- S --> Up One Level
-------- W --> Logs
---------- Enter trapdoor
------------ Enter corridor, pick up faerie
-------------- Release faerie
---------------- N --> 4 Way Passage
------------------ N --> To "Dead End"
------------------ E --> Pit of Prolonged, Painful Demise
-------------------- Examine contents of pit
---------------------- PICK UP PIECE OF KEY
------------------------ RUN AWAy
------------------ W --> Pool of water
-------------------- Throw stone
---------------------- Run away
To end your NeoQuest 3D game and send score (Yes, you DO get NP for this...) go back to the main page thing (the first page you see when the gameplay officially begins with the NeoHome option for N) and go East. You'll be consumed by a Jurble. :P

Two New Captions!
Posted by Terry
Posted on June 4, 2007, 2:14 pm NST
REMINDER
Today is the beginning of the Altador Cup!
Click here
to start playing your games!
P.S. Not everyone on JN Staff has picked Krawk Island...
Also, our comments have been temporarily suspended due to spam. Check out our forums to discuss the Cup!
------------------------------
Two more captions: one for today, one for Wednesday.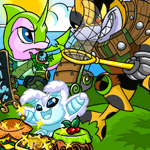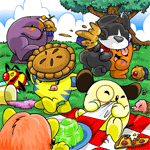 (Click For Larger Images)

Quiggle Day
Posted by Dave
Posted on June 6, 2007, 6:58 pm NST
Want to turn your pet into a Quiggle? Then these new morphing potions for Quiggle Day could be just the thing.





Fire | Red | Yellow | Island

Year 3 Premium Card
Posted by Dave
Posted on June 6, 2007, 7:00 pm NST
Premium members can now look forward to a new collectable card featuring Jhudora.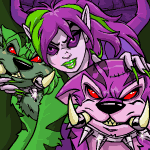 Petpet Appreciation Day
Posted by Terry
Posted on June 7, 2007, 1:50 pm NST
It's Petpet Appreciation Day!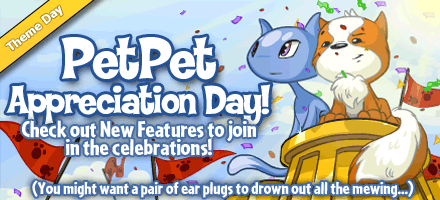 Click For Larger Image

NC Mall
Posted by Stephen
Posted on June 7, 2007, 8:10 pm NST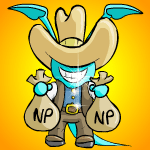 "This is a stickup! Money in the bags, now!"
Invites have been Neomailed to members accepted into the Neopets Customization Mall (NC Mall). If you have not received notification yet, just wait because we believe they are still being sent.
What We Know
Neopets Customization Mall
will
be a feature where you can directly buy products (With real, human, earthling money) with which to dress up your pet.
Congratulations! You have been chosen to test the new Neopets NC Mall. The NC Mall is the place to go for expanding your customisation experience with exclusive premium wearable items, backgrounds, trinkets, and more. The NC Mall will open at 8am PST on Friday June 7, 2007.
Visit the NC Mall to start shopping. Browse and preview various items and purchase what you like!
Once you've completed checkout, all your new wearables will be placed in your inventory. Click on these items and select "Place in Closet" to make them useable in the customization application.
Visit the customization application to begin using your new wearables on your Neopet.
--The Neoboards
A link for the new department will soon appear in the navigation bar, also!

More information will be posted when it becomes available.

Stowaway Sling
Posted by Terry
Posted on June 8, 2007, 11:52 am NST
Stowaway Sling may JUST be the next game out. o_O
Buttons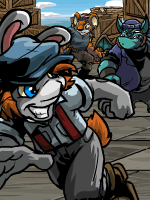 Trophies



Game Center