Your jnAccount:
Login
or
Register
| New to Jellyneo?
Click here!
Altador Cup XIV
Jellyneo's Altador Cup XIV Coverage
Altador Cup News and Updates
TNT Staff Tournament Round 1 Results
Posted by Dave
Posted on June 13, 2019, 9:19 am NST
Round 2 of the
TNT Staff Tournament
has now begun! Our guide has been updated with details on the staff member scores for the first round. You have until June 16th at 11:59 PM NST to assemble your team for round 2.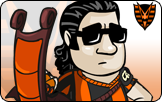 If you correctly guessed DJ Skellington as the Star Player for Round 1, you will get a Neomail congratulating you and a new item will be added to your inventory - a DJ Skellington Keyring Charm.
TNT Staff Tournament Guide »
Did anyone think he'd be Star Player?
I actually picked him as my star player but I have not received anything!
I picked him but didn't receive an item or nm. Only neopoints for the team
I picked him as my star player, nothing yet.
No neomail just neopoints
Neopoints, but no neomail yet. Thank you.
I TOLD you he's always an all-star to me!!!
same here, i picked him but didn't receive anything
cat
, 06/13/2019, 8:46 pm NST
I didn't pick an all-star last week, but I had DJ Skellington on my team.

Hey JN, now that the NC portion is out could you add it to the Altador Cup guide?
Hi there, I chose him and only received NPs
I chose him and did not receive an email or any prize.

Was never given a choice to choose a star player....so couldn't have guessed him anyways.
to choose a Star Player, on Firefox, I had to choose my team and lock it in then refreshed the page and pop-up for selecting my Star Player (from my selected roster) was there though last year it popped up after confirming my selections for my team.
I never had the pop up to choose a star player last round. I didn't even know there was a pop up until I just got it now for second round.
just got it, "DJ Skellington Keyring Charm"
Subject: Round 1 Staff Tournament

Message:

Congratulations, you guessed it right! Here is your prize for correctly predicting DJ Skellington as the Star Player of Round 1.


It didn't say the item name but it was in my inventory C:

http://images.neopets.com/items/toy_charm_dj_skellington.gif

DJ Skellington Keyring Charm
I just got DJ Skellington Keyring Charm and a neomail.
Yup, just got the NM and keyring too
Yep got the neomail and the key ring too!
same here
I ended up picking the best team possible but didn't pick DJ Skellington as my star player. Dang!
I got a DJ Skellington Keyring Charm! (I don't know if I got neopoints because I don't remember how much I had when I logged out last night.)
Congratulations!
Okay... so that's... times 4... carry the 7... ah! Given your chosen team's performance, you've earned yourself 3625 Neopoints!
Is there a guide for NC portion of AC this year?
OOPS sorry just found it, thanks!
@tntxhatesme: Apologies, we had the guide going for a few days but forgot to link it from our AC 14 hub!
Is that Charm an album item???? omg
Got a neomail (didn't say what the item was) and a DJ Skellington Keyring Charm in my inventory
I didn't get the skellington keyring

Senor Malo
1420

DJ Skellington
DJ Skellington
1370

Leo
Leo
570

kikocat
kikocat
2710

Binary Supagoo
Binary Supagoo
1820
smoker
, 06/16/2019, 9:14 pm NST
Missing for me too
There are 31 comments above. Why not post yours?