Your jnAccount:
Login
or
Register
| New to Jellyneo?
Click here!
Alien Aisha Vending Machine
Alien Aisha Vending Machine Information
World:

Trophies:

Neopoint Ratio:

1.00 Points =
1 NP

Our Difficulty Rating:

10%

[Send in a Game Tip] - [Return to the Game Guide Index]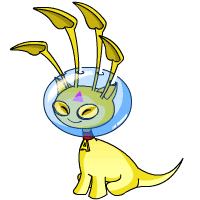 The Alien Aisha Vending Machine is run by (would you believe it) a small army of Alien Aishas! The vending machine only accepts Nerkmids. In exchange for Nerkmids, the machine will dispense various items and amounts of Neopoints. The items could be anything from various Gross Foods to paint brushes to another Nerkmid, and you'll always get a random amount of NP. The more NP you get, the higher your score - so if you're really lucky, you may also get a trophy!
Types of Nerkmids
Below is a list of the different types of Nerkmids. You can also view more details about them in our Item Database by clicking on the item image!
There's nothing conclusive about whether different Nerkmids give out different prizes (although some of the descriptions claim they do, our testing has given no evidence of this), so go for the cheapest one at the time. After you get your hands on a Nerkmid, you can go to the vending machine and choose which levers and buttons you want to pull and press, then click "GO!!!"
The Nerkmid way of life can be very risky. If you happen to get one through a random event, you're faced with a big decision: sell or vend? It really comes down to how lucky you feel. You can come out with your dream paint brush or sulk away with octopus ice cream. It's really up to you. Good luck!
Obtaining Nerkmids
There are currently three confirmed methods for obtaining Nerkmids:
You may get lucky and receive one from a Random Event.
It may be one of several possible prizes from certain Battledome Challengers, notably any opponent in the Cosmic Dome (accessible to Premium members only).
You can also get it as a possible prize from the Alien Aisha Vending Machine itself, in exchange for another Nerkmid.
Prizes
It is possible to receive any prize from a large pool from the Vending Machine. The possibilities are listed below.
Neopoints
You may be awarded anywhere between 0-75,000 NP.

Paint Brushes
You may receive any item with the word "Paint Brush" in it.



Gross Foods
You may receive any Gross Food item that is rarity 99 and below.
Rarity 99 and Below "Gross Food" Items »



Nerkmids
You may receive any Nerkmid.



Fading Bottled Faeries
You may receive any Fading Bottled Faerie.
There's also an avatar you can earn from the vending machine:
Alien Aisha Vending Machine Avatar
Help us improve!

Did you find what you were looking for on this page?
This game guide was written by: Terry